Fondly Remembering the Top Five Moments of Murray Walker, the 'Voice of F1'
Published 03/14/2021, 12:26 PM EDT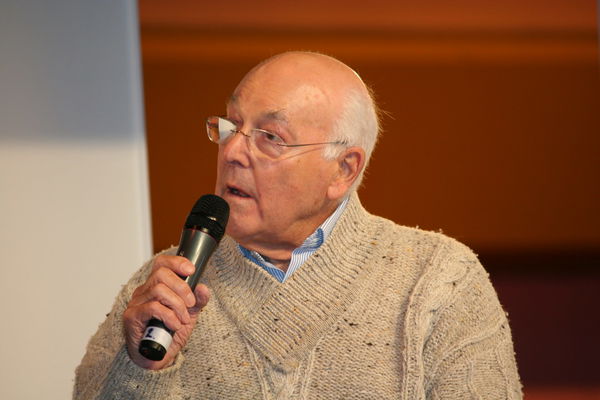 ---
---
Formula 1 commentator Murray Walker sadly passed away on Saturday at the age of 97. Without an iota of a doubt, he was a true legend of the sport, with his excitable voice resonating through the best part of four decades.
ADVERTISEMENT
Article continues below this ad
Mr. Walker also chipped in with humorous quips time and again, engaging the audience time and again. Possibly, some F1 enthusiasts coined the term 'Murrayisms' for very good reason!
Through his broadcasting career, there were some absolute golden moments. So without further ado, we present the five best ones which gave and continue to give fans some reminiscent memories:
ADVERTISEMENT
Article continues below this ad
1) The Bernie Ecclestone-McLaren misunderstanding!
In an interview with the former F1 magnate, Walker asked Ecclestone what his best memory of McLaren was after buying the team 17 years back. To which, the latter replied, "I don't remember buying McLaren!"
2) Jean Alesi's 1997 Australian GP debacle
The Benetton driver ran out of fuel and ultimately had to stop his car on the side of the track during the 1997 Australian GP. A famous line from Walker's commentary saw him state, "And you can see by the body language of the Benetton mechanics, that they are ab-so-lutely FURIOUS!"
Jean Alesi annoyed his Benetton team after repeatedly ignoring his pit board to make a pit stop, after the his radio had failed. Alesi eventually ran out of fuel on lap 34, 5 laps after the team had first called him in. Australian GP, Melbourne, 9th March 1997. #F1 pic.twitter.com/eBZ9TK0Vv7

— F1 in the 1990s 🚦🏎🏁🏆🍾 (@1990sF1) March 9, 2020
3) Murray Walker crowns Damon Hill as the 1996 F1 season victor
Jacques Villeneuve needed to win the race that year to keep his title hopes alive. But after he crashed out in Japan, it gave Hill a free pass at securing the championship. Walker excitedly said, "Jacques Villeneuve is out of the race! Damon Hill is the world champion of 1996!"
4) Michael Schumacher wins the 2000 F1 championship
A cloudy evening did not dampen the F1 icon and his crew's spirits one bit, as he stormed through to win his first ever title with Ferrari in the year 2000. Walker was present to commentate the time and did not disappoint either, with some iconic words to go along with it.
5) When Murray Walker poked Nigel Mansell's head bump!
ADVERTISEMENT
Article continues below this ad
After a minor bump to his forehead en route 1987 Austrian GP podium proceedings, Walker was immensely curious to see Mansell. Needless to say, this was a very interesting post-race interview!
No matter his little errors on-air, the Formula 1 community will always remember this gem of a commentator and human being. Indeed, the sport gained so much with his valuable presence, and so F1 will now never be the same again.
ADVERTISEMENT
Article continues below this ad
MORE – Lewis Hamilton, Mika Hakkinen & F1 Community Give Their Heartfelt Tributes to Murray Walker on Social Media