Former F1 Driver Tips Sebastian Vettel to End Career at Mclaren
Published 03/09/2020, 8:22 AM EDT
---
---
Former F1 driver Timo Glock believes the ongoing Ferrari and FIA controversy could influence Sebastian Vettel and his future at the team. Glock also made a bold prediction regarding Vettel's future in the sport after 2021.
ADVERTISEMENT
Article continues below this ad
Sebastian Vettel's contract with Ferrari expires at the end of this year. However, neither party have hinted at any future developments.
Could Sebastian Vettel end up at McLaren?
ADVERTISEMENT
Article continues below this ad
Ferrari did confirm that Sebastian Vettel was a priority for the vacant seat but haven't made any announcements. Vettel has also remained silent on the issue and hasn't shown signs of inclination towards resigning with the team.
Timo Glock believes Vettel's future with Ferrari could boil down to the ongoing controversy that team is embroiled in. Ferrari is currently involved in a civil war that's unfolding within F1. The team has been accused of cheating and a potential cover-up act with the FIA. Could this be the straw that breaks the camel's back?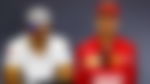 An unsavoury outcome and the negative publicity that follows could be the reason Seb walks away from Ferrari.
Glock also predicted a potential move to McLaren, if Vettel chooses to leave the Maranello outfit. This seems highly unlikely as McLaren arguably have the best driver pairing in F1 right now. The British team would be keen to re-sign both drivers should they have a repeat of the 2019 season.
A while back, news from the rumour mill linked Vettel to a McLaren seat in 2021 but the chances seem slim. Glock argued that current McLaren team principal Andres Seidl could coerce Vettel into making the move.
"I think it will also depend on what happens with how this Ferrari story ends," said Glock.
"I could imagine that it could be a reason for him to say 'That's it'."
ADVERTISEMENT
Article continues below this ad
"With Andreas Seidl, they have a German boss with whom they're only going up lately. I can imagine he would certainly like to have an experienced German on the team."
Glock also believes the Ferrari controversy could affect team boss Mattia Binotto.
"As is the way in this business, the one who is responsible has to take off his hat and go,"
ADVERTISEMENT
Article continues below this ad
Seidl joined McLaren in mid-2019 and was a guiding force in helping the team clinch fourth place in the Constructors. Will his German compatriot tempt Vettel into joining McLaren in 2021?