Formula 1 Gearbox: Are They Dual Clutch? How Much Do They Cost & Why Do They Attract Grid Penalties?
Published 12/05/2021, 10:33 AM EST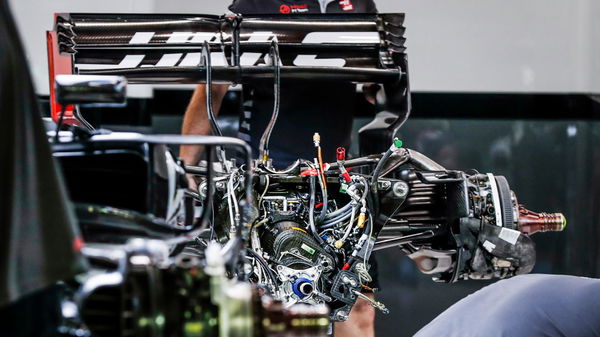 ---
---
Formula 1 cars represent the pinnacle of automobile engineering. They're so quick that it wouldn't be unfair to call an F1 car a rocket ship on wheels. And the speed depends on two primary reasons – aerodynamics and power. While aerodynamics depend heavily on external elements such as wings and the body of the car, the power is generated from the engine.
ADVERTISEMENT
Article continues below this ad
But a menacingly fast engine is nothing without a transmission, a gearbox to supply torque to the drive shaft. Hence, gearboxes in F1 cars are incredibly important, and quite expensive.
So expensive that you could buy about five Ferrari road cars for the cost of one Ferrari F1 gearbox.
ADVERTISEMENT
Article continues below this ad
Do Formula 1 cars have a dual-clutch transmission?
A dual-clutch transmission is a norm in modern supercars and hypercars. Despite that, an F1 car or, for that matter, most race cars do not have a DCT. Instead, they have a sequential transmission, similar to what motorcycles have.
To put it in simple terms, a DCT is significantly heavier than a sequential transmission by almost 100 pounds. And that is a lot of weight for a race car.
In other terms, a sequential transmission makes more sense because F1 cars only engage clutch once, typically at the start of the race. Also, in F1 cars, gears have to change without a lapse of time between the shift, simply because of the demands of the sport. So, while a DCT would enable a smoother gear shift, a sequential allows for gear changes with less loss of power and time.
There are more elaborate and technical explanations for why the sequential is preferred over a DCT.
But in a nutshell, it's simply because a sequential transmission is faster and lighter.
How much does an F1 gearbox cost?
Considering the gearbox is one of the most complex and important elements of an F1 car, it's naturally quite expensive.
Cost of Formula 1's crashes. 🤯

Engine Unit$10 million
monocoque$650,000 – 1.2 million
Front wing & nose cone $300,000
Gearbox $600,000
Transmission $250,000
Tires (Set of tires) $1714

So next time don't crash.
And when you watch something go wrong remember these costs. pic.twitter.com/iD3ccnraQ9

— HarryWood (@xlfellas) May 15, 2019
How can damage to a gearbox lead to a grid penalty?
To be clear, a driver receives a grid penalty when they change their gearbox. It doesn't necessarily have to be damaged, and neither is there any provision for damages in the regulations.
ADVERTISEMENT
Article continues below this ad
According to FIA regulations, a driver can change their gearbox after six races. This is simply because, after a few races, a sequential transmission deteriorates, because of subjection to high temperatures and forces.
Since a gearbox is such a crucial factor in performance in F1, richer teams could easily swap them after every race to make the most out of it.
So, the grid penalties are a way to curb using fresh gearbox as an advantage, to level the playing field. Of course, this is slightly unfair, considering a damaged gearbox shouldn't really earn a grid penalty.
ADVERTISEMENT
Article continues below this ad
But it's one of those things, where the advantages of a regulation eclipse its drawbacks.
Enjoyed reading this article? Download our exclusive app to get 24x7 coverage, latest memes and social media banter. Click here to download.