French F1 Grand Prix Driver's Press Conference Transcript: Lewis Hamilton-Max Verstappen
Published 06/17/2021, 2:51 PM EDT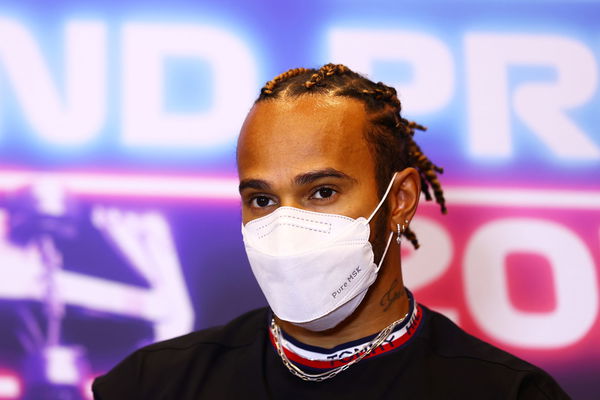 ---
---
Title rivals, Lewis Hamilton and Max Verstappen featured in Thursday's press conference ahead of the French Grand Prix. Verstappen currently holds the lead in the championship, with Hamilton in second place.
ADVERTISEMENT
Article continues below this ad
The Mercedes driver will be hoping to bounce back after the disastrous race in Baku where he finished the fifteenth and came home empty-handed. Hence, Hamilton will aim to a better race at Paul Ricard and hopefully bridge the four-point gap to Max.
Lewis Hamilton and Max Verstappen faced the media before the French GP
ADVERTISEMENT
Article continues below this ad
Tom Clarkson, the host of the press conference, asked, "Are we going to see another great battle between you two guys? Who is going to start?
MV: I mean it would be good, just means both teams are competitive and let's see. For us around Paul Ricard we haven't been let's say amazing and the car in the previous years. But I do think that our whole package is more competitive, of course, this year. Looking forward to see what we can do here.
LH: Pretty much like Max was saying, just excited to get back to racing and these breaks are sometimes kind to us and sometimes we wish the races comes sooner. I am just keen to get going again and improve from our last race, hopefully.
Clarkson: Well, Lewis it has been a rough couple of races for you guys (Mercedes), how much are you looking forward to getting back on track here at a conventional race track?
LH: The last two [races] have definitely been really difficult for us on the whole as a team. You have to take the rough with the smooth and it's definitely been challenging, but we've learned a lot. But I'm definitely looking forward to getting back onto a track we probably won't be as affected at with tire temps for example," added Hamilton, who took pole and victory at Paul Ricard the last two times F1 raced here in 2018 and 2019. "It has been good for us in the past here but I anticipate a tough weekend, naturally. Obviously, the Red Bulls have shown some serious pace over the previous races, as well as on the more conventional tracks like Barcelona."
Clarkson: Max throwing it back a couple of weeks, a heartbreaking end to your race in Baku. How much did it play on your mind in the week after the race?
MV: Not so much just realizing I was quite lucky, to hit the wall on the right-hand side and still to the left. I think if I would have gone left, there really would be a big impact. And so, I was more that, of course, I was really upset and disappointed not win that race. But in the end, I was also quite lucky there in that instance there. So yeah, it happens, it's racing of course, you know that things can happen. Of course, these kinds of things you don't want to happen.
TC: And this weekend are you expecting Mercedes more competitive?
MV: Yeah, I think as Lewis said, you know street circuits can be really tricky, tire warm-up, getting it in the right window. Sometimes Q3 we have seen with red flags and stuff, it's a bit more upsetting once you get to a more normal track. I think everyone knows more or less you have to do warm-up is less of an issue. So yeah, I do expect them to of course be more strong.
From Motorsport magazine: So the question is for Max. You said after the tire failure you had in Baku, Pirelli will of course find debris that caused the issue. The statement from Pirelli didn't say It was caused by debris, they had another explanation. Are you happy with that?
MV: Personally not, because for me it was just a bit fake what came out. But the only thing I can say from our side, I think the team did everything like they should have done. I mean they followed all the guidelines with tire pressure and stuff, so. There was nothing to be found there, so yeah, I don't really get. The official will go up on pressures for this weekend. Probably it has something to do with that, what happened in Baku, but it would also be just know if it was tire pressure or related just speak out. But would be I think easier to understand the explanation we got so far because the team didn't do anything wrong."
Phil Dunkin, PA: Lewis over the years we have got used to saying you haven't made any mistakes, and you have been driving flawlessly. I suppose running off the road in Baku is sort of your second mistake in six races. I know it's hardly the end of the world, but what do you put that down too. People suggesting that might be the pressure from Max. Would you go along with that?
LH: Well, Max wasn't in the race at the time, so it definitely wasn't the pressure from Max. I don't even count it as a mistake. You can't always be perfect [but] a mistake is where you drive off the track through missing your braking point or hitting the wall. But it was an unforced error, really something we had that was sitting there that could have happened at any point and it, unfortunately, bit us pretty hard. But we learned from the experience and we move forwards.
TC: Are there going to be any changes to the positioning of, is it the magic button? Are you going to move it further away from the steering wheel?
LH: We haven't moved it, we've just put a shroud around it just to make sure that you can't accidentally touch it in the future, but that's for the short term. Obviously, the wheel's not so easy to change or to move buttons on, because it's all designed, so we'll look for a longer-term solution probably in the future.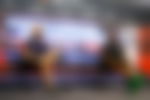 Scott Mitchell, The Race: Max your lead could have been bigger after Baku. But equally Lewis you could have taken the lead from the had had the restart ended differently. It was quite an extreme example of how quickly things can swing in this battle. Just wanted to know your thoughts on the role luck can play in this kind of tight fight. And I guess the need for you guys to control your faces as much as possible?
MV: I mean you're right it can swing very quickly. And it's still a super long season many races to go. Yeah, you of course just want to try and have the best possible result, which I thought I was gonna get in Baku, but then again it shows you that, things can change very quickly.
LH: Yeah I think, I really never know what to feel when I think about luck. There are people who sometimes say you make your own luck. There are definitely moments where you could be more fortunate, there are definitely some I guess you can be fortunate to capitalize on. Other people's misfortunes, but I don't know if that's feeling lucky. So, It does show you how quickly it can swing and that's why every point counts, unfortunately with two terrible races from us. We ended up being very, very close in points. So the race is still very much on.
Watch Story: Mad Max: Verstappen's Angriest Rants on Team Radio
Who is likely to win at the French GP?
The seventh round of the championship takes us to Paul Ricard for the French Grand Prix. Mercedes and Lewis Hamilton are looking to bounce back after facing defeat in Baku. While Red Bull will aim to add another win under their belt and further increase their lead in the championship.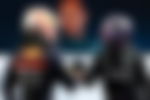 Furthermore, the fight for the lead in the driver's standings has intensified as Lewis Hamilton will be looking to bridge the four-point gap to leader Verstappen and reclaim the lead for the title.
ADVERTISEMENT
Article continues below this ad
We are just days from the race? What are your predictions for the upcoming weekend? Let us know in the comments below.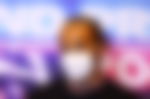 ADVERTISEMENT
Article continues below this ad