From Daniel Ricciardo to Lewis Hamilton, Best Radio Messages of the 2020 F1 Season
Published 01/03/2021, 1:14 AM EST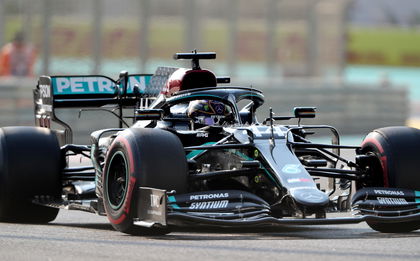 ---
---
Formula 1 is known for its quirky and entertaining radio communication messages. Although it is primarily a mode to transmit information between F1 drivers and on-ground pitwall, the former can also express their joy and sorrow in equal measures before, during, and after the races over the radio.
ADVERTISEMENT
Article continues below this ad
Here, we take a look at some of the best bits of radio messages and moments from the 2020 F1 season.
Daniel Ricciardo
ADVERTISEMENT
Article continues below this ad
It was a long time coming for Ricciardo and Renault, but the pair's first podium came at this year's Eifel GP race. Ricciardo keyed in to say, "Is that a podium boys? Is that a ******* podium?" with race engineer and team boss Cyril Abiteboul also congratulating him on the moment.
George Russell
Although he got his first championship points in F1, the Sakhir GP ultimately ended up in heartbreak for young Russell.
Following the race, he told Mercedes over the radio, "Guys. I don't know what to say. That was taken away from us twice."
Max Verstappen
The Red Bull superstar cruised to take home the 70th Anniversary race win and was understandably overjoyed.
Tuning in, Max said, "GP…did you hydrate during the race? You must have some sweaty hands as well, so don't forget to sanitise!"
Sebastian Vettel
After a dog had entered the track premises during the Bahrain GP practice, it brought out the humorous best of the four-time F1 champion.
He tuned in over the radio and jokingly sung, "Well, what should we say? Who let the dogs out, who, who, who,who!"
Lewis Hamilton
Blitzing through the traffic in front, the Briton went on to win the Turkish GP and consequently his seventh Drivers' title as well.
An emotional Hamilton keyed in to say, "That's for all the kids out there who dream the impossible. You can do it too man, I believe in you guys! Thank you so much everyone, for your support."
Pierre Gasly
The Frenchman did the unthinkable when he fended off the challenge from McLaren's Sainz to win the Italian GP in Monza. It marked the arrival of AlphaTauri as a very capable midfield team that could spring some surprises.
ADVERTISEMENT
Article continues below this ad
Gasly tuned in and expressed his joy, "Oh my god! What did we just do? You know we won the ******* race!" He carried on and thanked the team for its efforts, "Oh my god guys, we did it again! Oh my god, yes!"
There were naturally a few more excellent radio moments during the season, but we believe these were the top ones from 2020.
ADVERTISEMENT
Article continues below this ad
Which one was your favorite radio message, let us know in the comments!