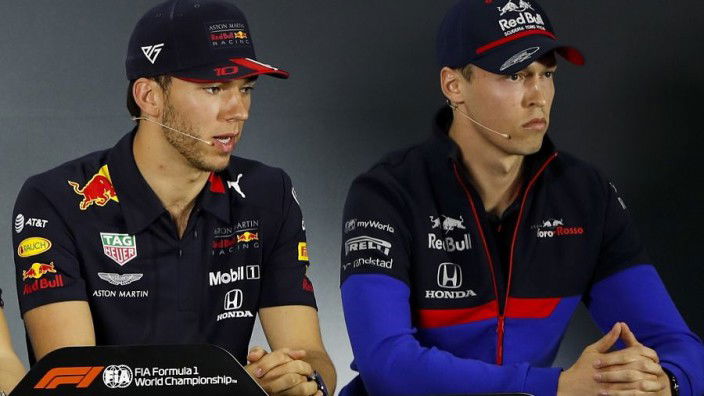 The Scuderia AlphaTauri and its predecessor, Toro Rosso, have practically become the Red Bull rejects squad. Their current drivers, Pierre Gasly and Daniil Kvyat, were both demoted from the Red Bull team. Speaking about his drivers, AlphaTauri boss Franz Tost confessed that both drivers "went to Red Bull too soon".
Tost surmised that their experience in the senior squad left the duo with "scars". First and foremost, Daniil Kvyat earned a promotion to Red Bull after just one season. Although he claimed two podiums, he had been relatively underwhelming. So, Red Bull dropped him from the Spanish GP onwards, replacing him with Max Vertstappen.
Meanwhile, After Daniel Ricciardo's unexpected departure to Renault, Pierre Gasly got the call. The Frenchman lasted at Red Bull,for even lesser time than Kvyat, with a demotion coming after half a season.
However, Tost confessed that Gasly and Kvyat are grateful for the reality check. Gasly and Kvyat figured that they were in the right place at the wrong time.
When the AlphaTauri boss spoke to Tiroler Tageszeitung newspaper, he admitted, "My drivers have some proverbial scars, but they are also grateful for the opportunities they have."
The Red Bull scars are still healing
Tost touched upon Kvyat, who was promoted after Sebastian Vettel's departure to Ferrari. Similarly, with Ricciardo trotting off to Renault, the team had no choice but to shoe-horn in Gasly. Last year's podiums in Germany and Brazil, would also serve as a start of a redemption arc.
The Austrian even spoke of Max Verstappen and Sebastian Vettel in the 2020 World Championship. He believes that the Dutch driver possesses the talent, passion, discipline and creativity to win at last. Meanwhile, he suspected that if Ferrari expose Vettel to a positive environment, it will translate into wins and better results.
When he is on song, the German driver can also make his teammate, Charles Leclerc, sweat profusely and give him a good fight.