"Hate All the Fuss Around It" – Watch Kimi Raikkonen's Rib-Tickling Chat With Rubens Barrichello
Published 10/15/2020, 6:35 AM EDT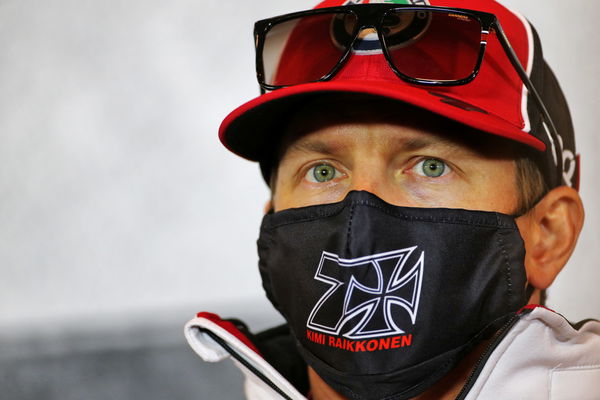 ---
---
Following the culmination of the Eifel Grand Prix, Kimi Raikkonen became the record holder for achieving the most race starts (323). He beat the record set by Rubens Barrichello, but in classic Kimi fashion, the 'Iceman' didn't care much for it.
ADVERTISEMENT
Article continues below this ad
Prior to last week's race, on the eve of his record-breaking start, Kimi was joined by Barrichello in a chat with Sky Sports' F1 commentator and former F1 driver Martin Brundle.
Knowing Kimi's nature very well, Brundle sarcastically asked, "Kimi, I'm pretty sure you've been losing sleep because you are so excited to break this record. I know these records mean a lot to you."
ADVERTISEMENT
Article continues below this ad
The Finn replied, "I think maybe in the future when I look back I'd appreciate it more. But for now, it's like any other race weekend. I hate all the fuss around it."
The Finn just doesn't fail to disappoint. His consistency in not giving a sh*t is unparalleled.
Even after the race, when he was congratulated on the achievement on the team radio, Kimi maintained radio silence. However, that could have been due to the way his race panned out. After all, having finished outside of the points (P12) with a time penalty, Raikkonen would have been miffed.
Kimi Raikkonen brings out the flamethrower on Brundle and Barrichello
Just as cold as his temperament is, so is his sense of humor. Kimi can deliver quite deadly one-liners and inflict major burns on the victims. Brundle and Barrichello found this out the hard way.
Brundle was talking about the experience shared between the three of them and had said, "Between us, we have over 800 starts and we've got six legs and six arms and probably one brain…"
ADVERTISEMENT
Article continues below this ad
Kimi sensed the opportunity to drop his bomb and went for the kill. He said, "Yeah, I have it (the one brain)."
It's great to see Raikkonen in a happy mood despite his performances so far. It clearly shows that the man just loves to do what he has been doing for the past two decades. He isn't just there to win (obviously, he'd love to do that) but he's there because he loves to race.
Can the Portuguese Grand Prix on October 25 give the Alfa Romeo man a few more points? We'll find out soon.
ADVERTISEMENT
Article continues below this ad