"He Broke More Women's Hearts": Watch Sebastian Vettel Pull Sir Stirling Moss's Leg With Light Hearted Banter
Published 04/13/2020, 2:54 AM EDT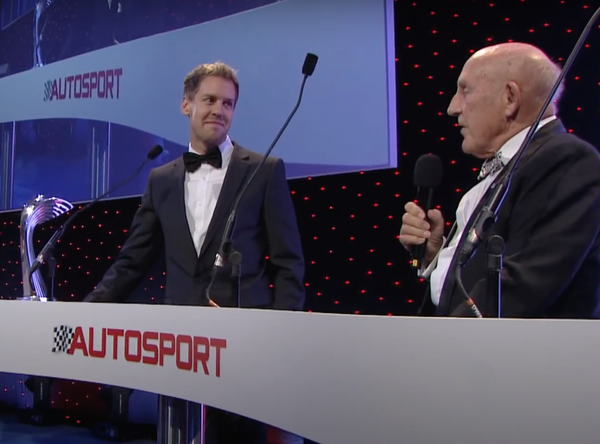 ---
---
Yesterday, Formula One lost a legend of the sport. Sir Stirling Moss, undoubtedly one of the greatest British drivers, passed away aged 90. As the world remembers and honors Sir Moss's achievements in motorsport, there's a funny side to the Brit that not many are aware of. At the 2013 Autosport awards, Sebastian Vettel and Sir Moss engaged in some light-hearted banter which the German will surely treasure for a long time.
ADVERTISEMENT
Article continues below this ad
When Sebastian Vettel met Sir Stirling Moss
Despite having an illustrious career in motorsports, Sir Moss failed to capture the most elusive prize in F1. Sadly, the British driver failed to capture a World Championship during his 10-year career as an F1 driver. However, that didn't dampen Moss's spirits while presenting the 2013 Autosport Award for International Racing Driver of the Year.
ADVERTISEMENT
Article continues below this ad
Sebastian Vettel dominated the 2013 Formula One season. The German driver cruised to 13 wins and took 9 of those in a row, making him a 4 times World Champion. As a result, Autosport felicitated Vettel with the honor of Driver of the Year.
Moss handed over the awarded to Vettel but also had a few words of praise for the German driver. Speaking at the awards ceremony, Moss said:
" I think it's fantastic, I spent 15 years trying and got nowhere near him and he's got 4!"
Being the quick-witted driver that he is, Vettel couldn't resist pulling Sir Moss's leg.
ADVERTISEMENT
Article continues below this ad
" Maybe I just speak in a German language, maybe I have "conquered" 4 championships, but he definitely conquered and broke more Women's hearts!" said Sebastian.
Perhaps one of the most memorable moments in Moss's Formula 1 career was his victory over Juan Manuel Fangio at the 1955 British Grand Prix. It was the first time that Sir Moss had defeated his rival and teammate.
Fangio crossed the finish line to lead a quartet of Mercedes cars to the chequered flag. While F1 fans complain of Mercedes 1-2 finishes today, the German team's domination stretches way back in Formula 1.
ADVERTISEMENT
Article continues below this ad
Unfortunately, 2013 was the last time Vettel picked up the Driver of the Year award. The 4 times World Champion is yet to capture another World Championship in Formula One.
Sebastian Vettel's contract with Ferrari expires at the end of this season and his next move is still unknown.