Heartwarming: Sebastian Vettel Comes to Rescue of Environment With 'Bee Hotel' Ahead of Austrian GP
Published 07/02/2021, 3:12 AM EDT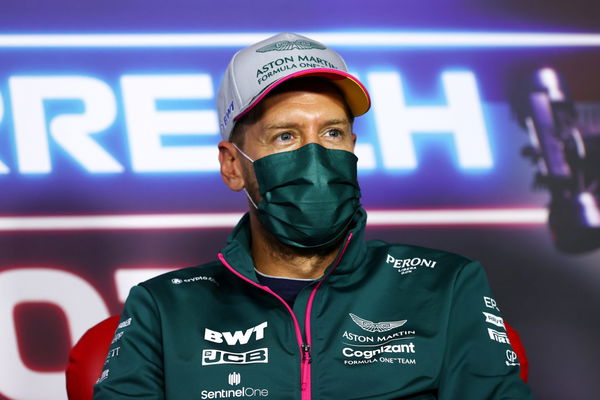 Sebastian Vettel has a profound love for racing, which is pretty much a known fact around the world. Interestingly, the German found an interest in Bees. Since 2020, the 4-time world champion has been nosing into the field of agriculture, even learning about the impact of bees over the world.
ADVERTISEMENT
Article continues below this ad
Eventually, he also revealed his support for the 'BioBienenApfel' project, which primarily focuses on creating a safe habitat for bees. Amidst such love and support for bees, Vettel revealed that he built a racing car for the tiny insects on an open field in Austria.
What did Sebastian Vettel say?
ADVERTISEMENT
Article continues below this ad
During the Austrian GP press conference, Vettel opened up that he joined several kids to build a 'hotel' for the bees, designed in the shape of a racing car, on Wednesday.
"Very exciting as well because I was out close to the track on the field. And we installed a racing car, but a very unconventional racing car," he said.
"Because it is basically a hotel for insects and bees and had a group of kids with me as well to build up the racing car."
During the lockdown in 2020, ahead of the F1 season, Vettel took up a course on agriculture and farming. What's more, he further practiced it outside his home in Switzerland, which eventually led him to the path of saving the bees.
Vettel reveals the ideology behind the 'bee hotel'
The 4-time world champion opened up that his scope is to build more space for insects, with his primary focus resting on bees.
"So, yeah, the idea behind this is to create a little bit more space for insects and especially, in particular, bees to have more space where they can flourish and live," he said.
ADVERTISEMENT
Article continues below this ad
Vettel was handing out flower seeds in the TV pen today. Between Austrian races, he stayed local and worked with a group of kids to install a racing car in a field that'll act as a 'Bee Hotel' to give bees more space where they can flourish #AustrianGP #F1 #Vettel pic.twitter.com/Gb7XQfApFr

— Lawrence Barretto (@lawrobarretto) July 1, 2021
"So, it's in the middle of a field. We took a lot of seeds out and hopefully, there will be lots of flowers growing in the future and a lot of bees coming to their new home."
ADVERTISEMENT
Article continues below this ad
Overall, Vettel is certainly contributing to a much greener environment, much like his colleague, Lewis Hamilton. Hence, will the duo continue to invest their fair share of time in this healthy adventure? Well, let's hope they do.
Watch Story: F1 Driver Salaries Revealed: How Much Do Lewis Hamilton & Co. Earn?