How Many People Are Needed to Perform an F1 Pit Stop?
Published 07/07/2021, 6:25 AM EDT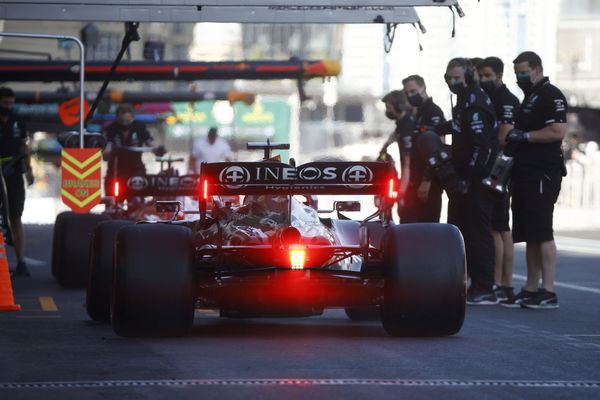 ---
---
F1 is the kind of motorsport where every millisecond counts, and even a petty mistake can cost a driver his position. Such is the intensity that Formula 1 carries with itself.
ADVERTISEMENT
Article continues below this ad
And it isn't always up to the drivers to gain those crucial seconds. There is also a group of mechanics that play a major part in determining a driver's on-track position – the pit crew.
Who wouldn't recognize them? Over the years, the crew has been setting records and records, not just within F1, but also over the world of motorsport racing. F1's pit stops are incredibly rapid compared to the likes of Indycar, NASCAR, and WEC.
ADVERTISEMENT
Article continues below this ad
The evolution of pit stops has been mind-blowing over the years. While it took the mechanics over 30 seconds to get an F1 car going in a pit stop back in the 50s, the time has dropped down to less than 2 seconds. Red Bull's 1.98s pit stop for Max Verstappen in Baku is currently the fastest over the 2021 season.
So, this might leave a few wondering, how does this work?
Since the stop is done within the blink of an eye, it is quite hard to understand what's actually happening in a pit stop.
How many F1 mechanics take part in a pit stop?
As of now, the number is likely around 21. How you might ask?
Well, let's start with the tires. A team of three takes over the job of switching a tire. One mechanic holds onto the wheel gun; as he unscrews the bolt, the other mechanic removes the used tire, while the final crew slots in the new tire. Since there are four tires on a car, the number is already up to 12.
Then, there is the team of two, who lift the car using the special trolleys. One mechanic lifts the back of the car, while the other, the front. There is also a spare mechanic, who is ready to replace any one of them in case of inconvenience.
ADVERTISEMENT
Article continues below this ad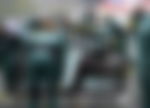 Another team of two holds either side of the cockpit steadily to prevent any kind of destabilization while their colleagues switch the tires. Meanwhile, two other mechanics are assigned to the front wing, who make necessary adjustments to it.
Finally, two mechanics oversee the operations and also keep an eye on the pit lane. Their signals are vital, as a driver getting away safely after a stop resides entirely on their hands.
ADVERTISEMENT
Article continues below this ad
Overall, that closes out the 21-member pit crew, who play a massive role in delivering sub-2-second pit stops.
Trending Stories