How Minor Mishaps Could Bar Leclerc & Sainz From Buying Ferrari Cars Amid Recent Justin Bieber Incident
Published 05/04/2022, 11:25 AM EDT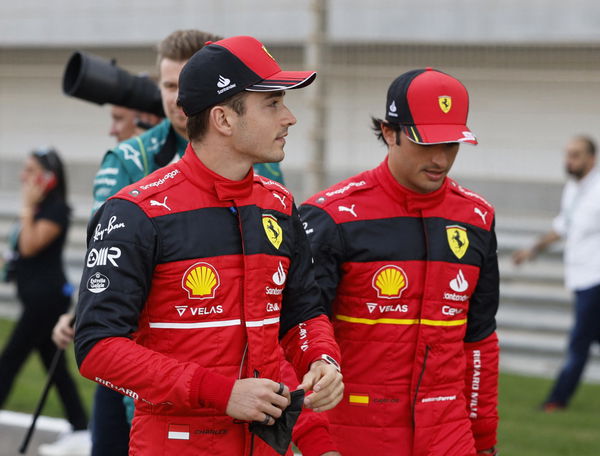 Ferrari cars are special. People wait years for the opportunity to buy one. We have seen plenty of celebrities and Formula 1 drivers own a Ferrari. And it isn't surprising to find out that the Ferrari buying experience is different from buying any other car in the world. But what makes the Ferrari buying experience so different?
ADVERTISEMENT
Article continues below this ad

Since owning a Ferrari is a luxury, the Italian car manufacturer has put down certain rules that buyers must abide by if they ever want to purchase another Ferrari again.
ADVERTISEMENT
Article continues below this ad
Reports suggest that popular singer Justin Bieber has just lost his right to buy a Ferrari. Since both Carlos Sainz and Charles Leclerc own Ferraris, they might want to avoid the mistakes Bieber made.
Why did Justin Bieber lose his Ferrari rights?
Ferrari considers Justin Bieber as "persona non grata." The admired Canadian singer who loves his cars has violated Ferrari's code of ethics.
According to reports, a few months earlier, Bieber parked his Ferrari F458 in a parking lot near the Beverly Hills and it was only found after two weeks. Moreover, he had also changed the white body of the car to electric blue, which is against Ferrari's policy.
Further, the Canadian did not approach Ferrari's headquarters in Maranello for the changes. Instead, he decided to make it happen in West Coast Customs in California. He made changes to the wheels and the color of the logo on the steering wheel, which is also against Ferrari's code of conduct.
To cap it off, he sold the car at an auction in 2017. Hence, Ferrari took an action and banned Bieber from buying their cars in the future. Carlos Sainz and Charles Leclerc, who also own a Ferrari, might not want to repeat Bieber's mistake.
The strict rules for owning Ferrari cars
Ferrari ownership is a privilege and one that comes with a lot of responsibility. Ferrari is known to be very controlling over the cars they build, and to discourage flipping of vehicles. One cannot sell a car in its first year without a notice.
ADVERTISEMENT
Article continues below this ad
WATCH THIS STORY: F1 Drivers Fighting on Track
The Ferrari can also be customized according to the client's wishes. So, the client should not meddle with the Italian luxury car, including the bodywork and the Ferrari badge in the car after being purchased.
 

View this post on Instagram

 
ADVERTISEMENT
Article continues below this ad
Justin Bieber is not the only celebrity to have his Ferrari contract ripped. Ferrari also considers popular rapper 50 cent and American media personality Kim Kardashian as "persona non grata." Hence, Leclerc and Sainz should comply with Ferrari's code of conduct to continue owning their car.