"I Feel Very Good with Sebastian Vettel" – Charles Leclerc
Published 03/03/2020, 3:25 AM CST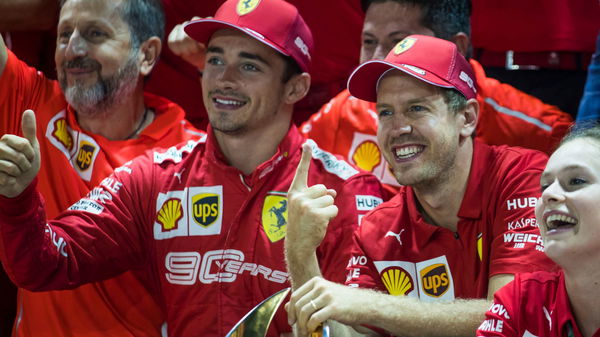 ---
---
Earlier this year, Charles Leclerc signed a long-term contract with Scuderia Ferrari. However, the identity of his teammate for 2021 and beyond, is a mystery. 4-time world champion Sebastian Vettel is seeking a contract extension with the Maranello outfit.
ADVERTISEMENT
Article continues below this ad
To that end, Leclerc admitted that he is happy with Sebastian Vettel as a teammate. On the subject of the second Ferrari seat, the Italian giants are spoilt for choice. However, this is only if they decide to replace Vettel.
Possible candidates include, McLaren driver Carlos Sainz and Renault driver Daniel Ricciardo. However, Ferrari team boss Mattia Binotto is keen to retain Vettel on the team.
ADVERTISEMENT
Article continues below this ad
Speaking to Il Resto del Carlino newspaper, Leclerc said, "I feel very good with Seb. I believe that we have found the right balance in our relationship. After that, it's up to me to be a driver."
"These are decisions that belong to Ferrari and I will respect them. I would add that, at my age, I can still learn a lot from different teammates."
What else did Charles Leclerc say?
Recently, Red Bull star, Max Verstappen claimed that six-time world champion Lewis Hamilton is "not God". In light of that declaration, Charles Leclerc gave his opinion on the matter. Interestingly, he agreed with the Dutchman. Meanwhile, Hamilton suggested that Verstappen's comments were a sign of weakness.
ADVERTISEMENT
Article continues below this ad
Leclerc admitted, "Max is right – nobody is unbeatable. Not even Lewis, who is obviously a great champion."
When he spoke about the Mercedes driver, Leclerc confessed that he envies Hamilton's vast experience. Lewis Hamilton has been racing in Formula One for 13 years. On the other hand, Charles Leclerc will enter his third season in the sport, so he still has a lot to learn.
The Monegasque driver disclosed that one aspect that he needs to learn is tire management. He even praised Hamilton for his ability to manage his tires during the race.
ADVERTISEMENT
Article continues below this ad
Now, Leclerc and Vettel are looking ahead to the start of the 2020 Formula One World Championship. The bad news is that the SF1000 appears to he lacking in the pace department, but does make up for it in the corners.