"I Really Hate It" – Max Verstappen Takes a Sarcastic Jab at Lewis Hamilton
Published 09/24/2021, 1:56 AM EDT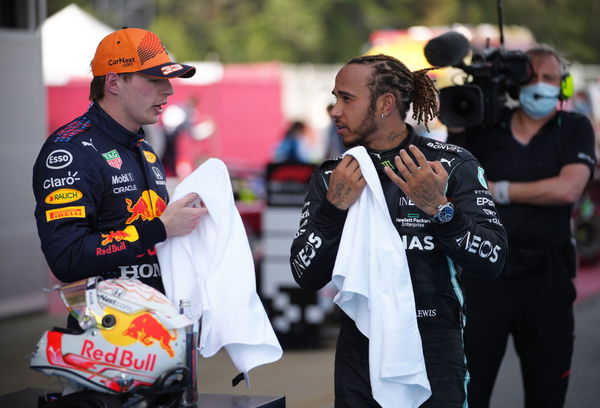 ---
---
The 2021 F1 season has spiced up to the levels which F1 fans haven't gotten to witness since Nico Rosberg retired from the sport. Max Verstappen and Lewis Hamilton are separated by just five points at the top of the Drivers' Championship table. Things were already heating up between the two, and at Monza, it crossed the boiling point. Hamilton and Verstappen crashed into each other and both of them had to retire from the race.
ADVERTISEMENT
Article continues below this ad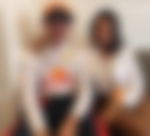 However, things aren't just limited to the track anymore. In the press conference leading up to the Russian GP, Max Verstappen sarcastically mocked Hamilton's claims that he is feeling a lot of pressure due to the title fight.
ADVERTISEMENT
Article continues below this ad
Russian GP Press Conference gets spicy for Lewis Hamilton & Max Verstappen
During the press conference on Thursday, Hamilton was asked if he thought that the pressure is catching on to Max. Lewis replied, "Obviously he won't admit to it and I'm not going to make an assumption but I'm just saying I remember what it was like when I had my first one and it definitely mounted up."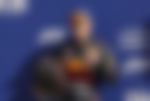 Max faced the media later the same day. He was told about what Lewis claimed about him being under pressure. Max laughed it off sarcastically and said "Yeah, I'm so nervous, I can hardly sleep. It's so horrible to fight for a title. I really hate it. Yeah."
He then answered in a serious tone, "No, I think if someone really knows me, I'm very relaxed about all those things and I really can't be bothered you know I'm very chilled. It's the best feeling ever to have a car, a great car where you go into every weekend and you can fight for a win.
"It doesn't matter if you're just leading a championship or not—those comments I mean it just shows you that he doesn't really know me, which is fine, I don't need to know him, how he is, fully. I just focus on myself and I really enjoy it out there at the front and of course, hopefully, we can do it for a really long time."
ADVERTISEMENT
Article continues below this ad
Racing hard but fair
Hamilton had stated earlier that both of them are professionals and he expects a "hard but fair" fight among them. Verstappen cleared things out from his side today. When asked if he would consider changing his approach if neither of them wanted to back out, he said "I think that goes both ways. It's not only me when we are racing each other".
ADVERTISEMENT
Article continues below this ad
WATCH STORY: Lewis Hamilton's Biggest F1 Crashes
With so much on the line, it's pretty evident that none of the drivers would go easy on the other. It's just a matter of time before we get to see if the mercury rises once more, or if they keep the heat under control.