"I Was Fan-Boying…": Lando Norris Makes Honest Revelation on Surprise Encounter With McLaren F1 Teammate Daniel Ricciardo 8 Years Ago
Published 05/06/2022, 6:52 AM EDT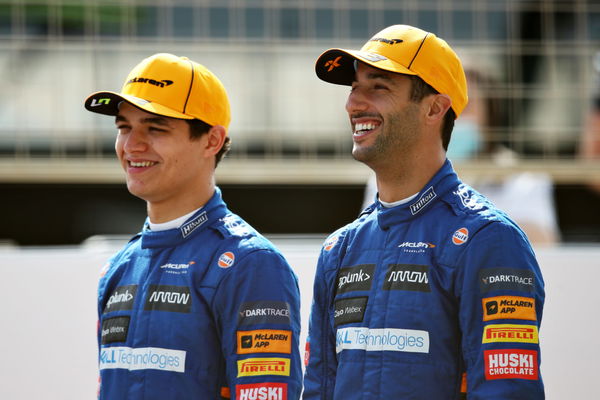 Lando Norris has opened up about Daniel Ricciardo. The young Briton shared his thoughts about being a fanboy to his older Australian teammate at the Woking base.
ADVERTISEMENT
Article continues below this ad
Last season, the 32-year-old joined the Papaya team, becoming a teammate with the young prodigy Lando Norris. However, there were speculations about a heated rivalry between the two drivers as Norris outperformed Ricciardo on most occasions last season.
ADVERTISEMENT
Article continues below this ad
However, the drivers rejected having such thoughts about each other and instead claimed to be good friends. Further, the young McLaren driver revealed he was a Ricciardo fan as a kid.
In a recent video uploaded by McLaren's YouTube channel, The Honey Badger shows a photo of younger Lando from an event in Qatar. He also reveals it was their first-ever meeting.
Norris reveals his appreciation for Ricciardo by saying, "I was fanboying at that time." To which Ricciardo shares that Norris even complimented the Aussie back then. Ricciardo said, "I mean, you said I was the coolest kid there was. So I was like, thank you."
Lando Norris is 'ballin' for the Miami GP
The F1 drivers and teams need no reason to experiment with their outfits or livery. Like when Red Bull once used a livery made out using their fans' photos, and when the Mercedes team wore the vintage outfit for their 125th-anniversary celebration. The teams now have the inaugural Miami GP to experiment with their outfit this season.
Most drivers around the paddock went for unique helmet designs for the Miami race. Everyone has a special Miami-themed helmet, from the reigning world champion Max Verstappen to the two-time world champion Fernando Alonso. However, Lando Norris has a unique concept for his helmet.
ADVERTISEMENT
Article continues below this ad
The 22-year-old usually wears a helmet with black and neon green color, which represents his brand, Quadrant. However, aside from his classic Black-Neon Green helmets, he has worn some unique designs. But his Miami GP helmet takes the center stage, as it is designed to look like a basketball. Further, the orange color matches that of the team's color. Lando revealed the Helmet and captioned, "I'm b-ballin'."
ADVERTISEMENT
Article continues below this ad
WATCH THIS STORY: Zendaya's Legendary American Stylist Set to Dress up Lewis Hamilton for Met Gala 2022
Norris got a fantastic helmet for this weekend. But would he be able to shine in this helmet, as he did in Imola? The young driver scored a podium in the Last race. So, there are hopes that Lando will showcase another excellent performance in Miami. What do you expect from the McLaren drivers in the inaugural Miami GP?