In Pictures: The Shocking Duality of Williams' Last F1 Win at That Ended in Flames
Published 05/13/2022, 10:28 AM EDT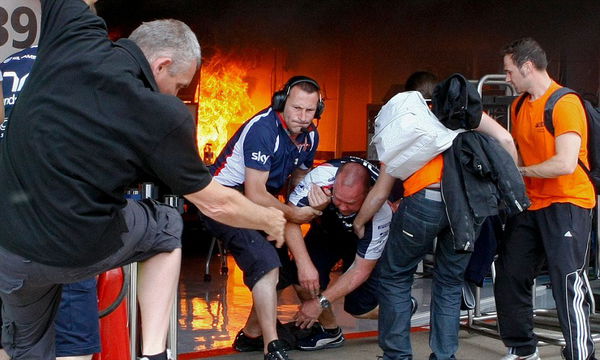 Pastor Maldonado's name may not be on top of your mind when you think 'Formula 1'. But the fans will forever remember the former Williams driver's performance in Spain back in 2012. He still remains the last Williams driver to win an F1 race.
ADVERTISEMENT
Article continues below this ad

Maldonado's charge through the Spanish Grand Prix was truly exhilarating. He not only claimed his first career F1 win but also ensured that a Venezuelan flag was on the podium for the first time. However, the victory was marred by an incident in the Williams garage.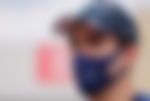 ADVERTISEMENT
Article continues below this ad
A flash fire broke out on the Williams pit lane after Pastor Maldonado took victory in the Spanish Grand Prix. The fire appeared to start near the rear of the team's garage and quickly spread through the team's equipment and motorhomes.
The incident in the Williams F1 garage after 2012 Spanish GP
Maldonado's win was one that made the Williams engineers go wild in celebration. He qualified second but started on pole after a grid penalty was awarded to Lewis Hamilton. Despite Alonso's charge early in the race, the Venezuelan beat the hometown hero. He also held Kimi Raikkonen to secure an unlikely win.
Also on this day, after celebrating their driver being on the podium, the Williams garage went up in flames.

The incident is believed to involve a Kers unit, which sparked a fuel fire.

Several people were hospitalised but ok. https://t.co/A7l3VwI7pp pic.twitter.com/HUs3ut02X1

— EngineMode11 (@EngineMode11) May 13, 2022
Celebration was, of course, richly deserved after the performance. However, the fire that broke out after the victory shocked everyone. Sir Frank Williams was giving a speech when the incident happened. Bruno Senna's fuel in the race car stored for the next race started leaking fuel and the spark was from the KERS unit of the car.
Amid the chaos and confusion of the moment, thankfully, the fire did not seriously harm anyone. However, 31 people were left with injuries and some were hospitalized. Maldonado himself rescued his family members from the paddock.
ADVERTISEMENT
Article continues below this ad
The Williams crew took efforts to reduce to the fire with extinguishers as the other teams also joined them to cease the fire. Well, the incident left a mark on Formula 1 and the safety measures were further improved. However, Maldonado's performance that day will remain in the memories of F1 fans.
ADVERTISEMENT
Article continues below this ad
WATCH THIS STORY : Top 5 Williams F1 Liveries of All-Time
On the unforgiving high-speed Circuit de Catalunya in Barcelona, the Williams driver perfectly maneuvered his Williams FW34 around the course and won his first ever race. The win was stunning and will go down in the history books, and thankfully no one was severely injured from the incident.