"It is a Good Marketing Story": Toto Wolff Reacts on the Possibility of Sebastian Vettel Joining Lewis Hamilton at Mercedes for 2021
Published 05/17/2020, 5:11 AM EDT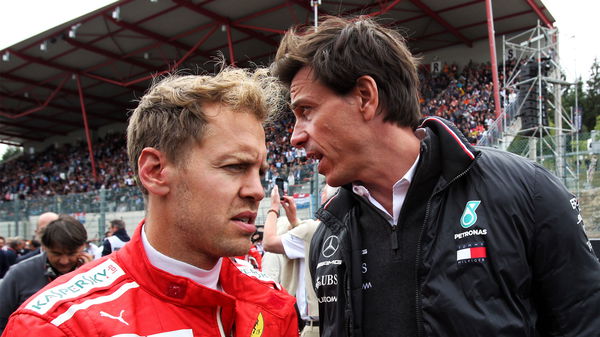 ---
---
Four-time title-holder Sebastian Vettel will leave Ferrari toward the finish of the 2020 season. It comes as Vettel failed to secure the Championship since joining the Italian group in 2015. Carlos Sainz will replace him after the 2020 season. He will pair up with Charles Leclerc.
ADVERTISEMENT
Article continues below this ad
There are not many choices for the German. Red Bull have already ruled out the possibility of a deal with Sebastian Vettel. Several rumors connect Sebastian Vettel with Renault. Reports also state that Alonso has already signed the 'pre-agreement' with the French team.
Mercedes may have a vacant seat from 2021 as Valtteri Bottas is in the last year of his agreement. In any case, giving Hamilton a partner who will be so frantic to beat him could cause significant difficulties.
ADVERTISEMENT
Article continues below this ad
Toto Wolff reacted to the news of Vettel's Ferrari exit and praised the driver.
"It is a pity that an era is coming to an end,"
"Sebastian is a great driver, a great personality, and an enrichment for every Formula 1 team," said Wolff.
"With a view to the future, we are primarily committed to loyalty to our current Mercedes drivers. But of course, we cannot ignore this development."
Toto Wolff says that Sebastian Vettel is as yet an awesome Formula 1 driver. He even expresses that the potential arrival of the 32-year-old driver will be an extraordinary marketing story for the Mercedes brand.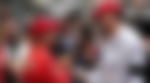 ADVERTISEMENT
Article continues below this ad
"Of course, a German driver in a German car is a good marketing story," says Wolff in conversation with ORF.
"We exclusively focus on success. Sebastian is, of course, someone who is really good. He pulls all the strings. He can decide for himself whether he wants to quit or join another team. There are still some interesting places to go."
Mercedes will have two vacant seats to be filled before 2021, as the agreements of Lewis Hamilton and Valtteri Bottas both lapse after the 2020 season. The German team presently can't seem to choose where it needs to go for the coming years.
ADVERTISEMENT
Article continues below this ad
"We're looking at what we're going to do with George Russell and then there's a Vettel turn. But this is not on the highest place on the agenda at the moment, we want to concentrate on our own team first."