"It's a Hot Topic for You Guys" – Alex Albon Takes a Swipe at F1 Media
Published 09/17/2020, 8:34 AM EDT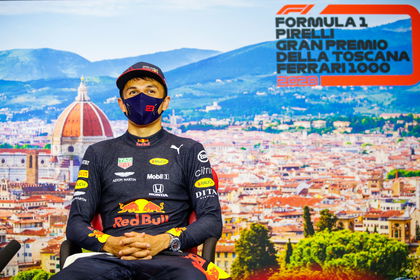 ---
---
Finally, a podium finish for Red Bull's Alex Albon. The glimmer in his eyes and the joy on his face were absolutely uncontainable. He drove a strong race at Mugello, constantly pressuring and overtaking his top half rivals. He then comfortably finished past the checkered flag in P3.
ADVERTISEMENT
Article continues below this ad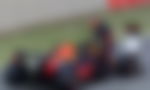 And on a day where Verstappen secured no points because of the crash, his teammate delivered the goods for the team. Despite good performance since joining Red Bull, there has been continued speculation over whether Albon will retain his seat for the 2021 season.
ADVERTISEMENT
Article continues below this ad
Alex Albon thinks 'he is here to stay'
In response to media statements, Alex Albon says that he tries to avoid media speculation over his future. A brief interview with Autosport quoted him as saying, "I don't look at the media. I know there's always going to be talk about it. It's a hot topic for you guys. You kind of just move on from it. My trust and my confidence comes from speaking to Christian or whoever, or Dr Marko personally. And I feel a lot of support from both of them, from this whole team as well."
"So with all the support from the guys around me, I'm happy with where I am in the team, and it's more you could say the media that creates the noise."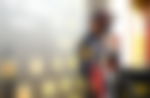 Christian Horner, the Team Principal, had also recently stated that Albon's performances would mean that his seat is secure for the time being. And for good reason as well. He has shown a little more maturity and composure in his second full F1 season. The team also wants a tough challenger to star driver Max Verstappen, and the second-row lockout showed exactly that. Albon currently occupies the 6th position with 90 points, only just behind Racing Point's Lance Stroll.
ADVERTISEMENT
Article continues below this ad
Albon in the Alpha Tauri again?
There have been theories about who could replace Albon in the second seat, if at all Red Bull wants to go down that route. For starters, Pierre Gasly, who has shown much in his second stint at Alpha Tauri, could take it. The French driver's prime point in the last 12 months was undoubtedly his Italian GP win.
ADVERTISEMENT
Article continues below this ad
Another possibility, though unlikely, outside the RB Junior Drivers programme is the experienced Sergio Perez. Leaving Racing Point at the end of the season, he is also on the lookout for a seat. But if Albon can keep the good things rolling, it would be hard to see how he will be devoid of a seat for next year.