"It's Time" – Former Ferrari Driver Advises Alfa Romeo or Haas F1 to Sign Mick Schumacher for 2021
Mick Schumacher, the son of F1 legend Michael Schumacher, has impressed big time in his second season of Formula 2. The young German's performances have led many people to believe that he is ready for a promotion to F1 racing. This view is also shared by former Ferrari driver Gerhard Berger.
Schumacher currently sits atop the F2 championship table with 153 points. He has achieved 8 podiums so far this year, including a race win at Monza.
Although the Scuderia have their seats for next year confirmed (Charles Leclerc and Carlos Sainz), their customer teams i.e Haas and Alfa Romeo are yet to do so. In recent weeks, there have been rumors linking Mick to Alfa Romeo for next year, and Berger thinks that the move would be well vindicated.
In an interview with Motorsport-Total, Berger was asked if Schumacher junior is ready to make the jump into the big league. To that, Berger replied (translated by Google), "Yes, now.
"The discussion about having Mick in Formula 1 started in 2019. In my opinion, that would have been a year too early. Now it's time.
"I like it when someone orientates themselves in the first year and aims for the championship in the second year or maybe even win."
Gerhard Berger would pick Mick Schumacher if he were the boss at Haas or Alfa Romeo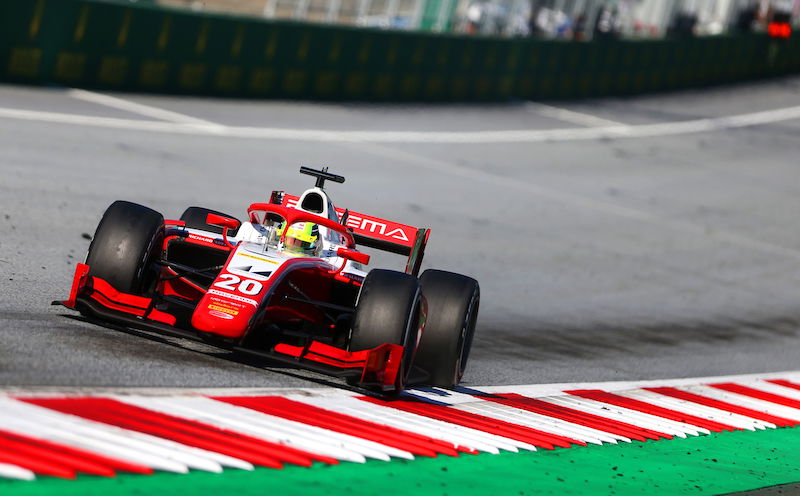 The Austrian said, "I would take him. Mick delivered and through his family knows what the hurdles you have to overcome in racing in order to get to the top.
"He deserved (deserves) a chance. Everyone will support the topic, also out of respect for his father. And everyone would be happy to see that Mick got a fair chance."
Mick certainly has looked the part in his second season of F2. If he were to win the championship, then it would be a no brainer to give him a seat at one of Ferrari's customer teams.
He'd also make an excellent long term investment for Ferrari. Mick could learn the chops of racing at the highest level with Haas/Alfa Romeo. He could then could transition into the works team, becoming Leclerc's long term partner.
However, Schumacher is bound to face stiff competition from the likes of Callum Ilott and Robert Schwartzman (fellow F2 title contenders). And even from experienced heads like Sergio Perez and Nico Hulkenberg.
So a 2021 seat may not be fully guaranteed. But rest assured the German will get his shot at F1 sooner rather than later.