Kim Kardashian Hilariously Dubbed to Race With Lewis Hamilton in "Las Vegas GP" After Taking First Steps Into the Racing World
Published 03/16/2023, 1:30 AM EDT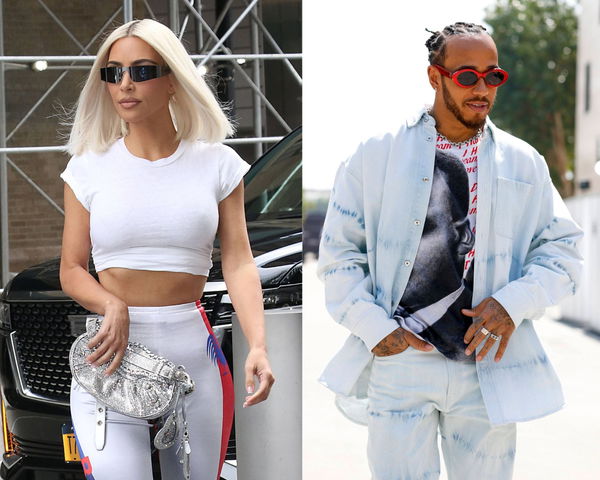 Kim Kardashian is undoubtedly one of the biggest celebrities on social media, boasting an Instagram following of almost 350 million! However, F1's face, Lewis Hamilton, is one of the most impactful despite only carrying around 32 million. What will happen when the two come together? Leave that. What would happen if the two came together for the biggest event in Formula One this year in Las Vegas? A massive boom!
The return of the Las Vegas GP is one of the most highly anticipated events in F1 in recent years. Without a doubt, we'll be witnessing huge attendance from the mega celebs, and it seems like Kim Kardashian has presented herself as a challenger for the weekend rather than just any other celeb in the paddock. However, this mustn't be something Lewis Hamilton is concerned about, despite the worrying performance of the Mercedes W14.
 

View this post on Instagram

 
ADVERTISEMENT
Article continues below this ad
In a picture shared proudly on Instagram, she boasts her Malibu Grand Prix Virage Racing License issued in 1992! Well, will this allow her to drive on the Vegas strip? Certainly not. But many fans joked around that she'll be driving alongside Lewis Hamilton in Las Vegas since it's not just any other license. It's the Super License! We all could now only imagine the two competing in Vegas under the nightlight!
The Malibu Grand Prix, however, wasn't professional racing. Yet, it gave quite some bragging rights to the second youngest of the Kardashian sisters. It was an entertainment business that achieved fame as a franchised model-IndyCar racing circuit during the 1970s and 1980s. Many stars were a part of the club and held its license, including the late rapper Tupac.
When Kim Kardashian partnered with Mercedes F1
The story of this rather unusual collaboration is less known. The collab between the two took place when the Kardashian walked the Balenciaga Couture Fall/Winter 2022 show and put on a futuristic face shield.
ADVERTISEMENT
Article continues below this ad
 

View this post on Instagram

 
This shield was given the stamp of approval by Mercedes F1 since it was created by the applied science division of the team. It was indeed a spotlight stealer, as was Kim Kardashian. Terming it "engineered to optimize [air] flow, improve performance metrics, and ensure a stabilized CO2 intake," the Mercedes-powered Balenciaga face shield showcased during the show is expected to sell for $5600!
ADVERTISEMENT
Article continues below this ad
WATCH THIS STORY: Bromance moments between Max Verstappen & Lewis Hamilton
All this fell in line with Mercedes' driver Lewis Hamilton's other expertise, fashion. Would he have had a say in it? Possibly. 
Edited By: Varunkumaar Chelladurai