Kimi Raikkonen Expresses His Happiness With the Team's Performance in Testing
Published 03/09/2020, 2:38 PM EDT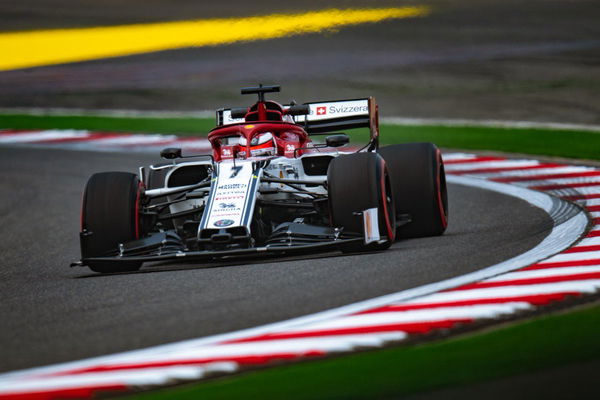 ---
---
Kimi Raikkonen is back at the group where his Formula 1 profession began and following a year with Alfa Romeo last season, he will like to be increasingly serious in 2020.
ADVERTISEMENT
Article continues below this ad
The Finn is anticipating getting retreat from the track and scoring points at any place the open door comes up.
Kimi Raikkonen had an incredible first half of the season. He scored 31 points before the summer break, which set him eighth in the Drivers' Championship after 12 races. By correlation, his partner Antonio Giovinazzi had scored just a solitary point during a similar period.
ADVERTISEMENT
Article continues below this ad
After the summer break, the vehicle basically needed pace, and Kimi Raikkonen persevered through a seven-race pointless streak. However, he had a decent opportunity to score in Belgium where he began 6th, yet was hit by Max Verstappen toward the beginning.
The futile streak finished at the Brazilian Grand Prix. It was a decent race by Kimi Raikkonen which yielded him a fourth spot finish, the first top four completion for the Hinwil-based group since 2013. Kimi Raikkonen completed twelfth in the Drivers' Championship with 43 points. It was the best outcome for a driver of the team since 2013.
Testing worked out in a good way for Raikkonen however he is anticipating what he needs to do most and that's racing out on a circuit.
"It doesn't really matter if it is the start or the end of the season. Every race is worth the same number of points and is an opportunity for us to do our best," said Raikkonen in an official Alfa Romeo press release. "It is always difficult to predict our performance for the first race of the season."
"We did our best in the six-day winter tests in Barcelona. We will really know where we are after Australia. The entire team worked hard to improve the car compared to last year. 
ADVERTISEMENT
Article continues below this ad
Presently, the veteran driver seems, by all accounts, to be increasingly sure of what could be conceivable in Melbourne.
"We have all done our homework and I trust that we can achieve good results in Melbourne."
Have you joined our Formula One fantasy league yet?
Join now: https://fantasy.formula1.com/league/100476?ftm=email
ADVERTISEMENT
Article continues below this ad
You shouldn't need the league code, but just in case here it is: 7ad1c48d7c.