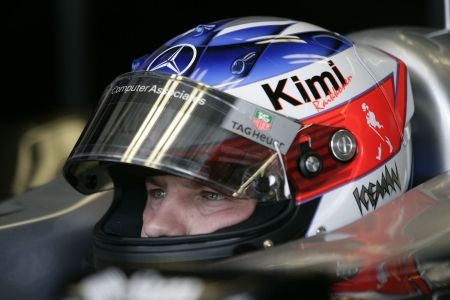 If you ask Ron Dennis what it cost him to sign Kimi Raikkonen, he would probably jokingly reply: "everything". Many are aware that the Finn debuted for Sauber in 2001, but was quickly picked up by  McLaren for the following season.
McLaren's deal for Kimi Raikkonen
Kimi's move to the Woking outfit wasn't that straight forward.
Raikkonen moved to McLaren after a successful debut season with Sauber. The Finn greatly impressed McLaren boss Ron Dennis, who went out of his way to sign the iceman. Sauber, however, was keen on keeping the Finn – as it was the Swiss outfit who first recognized Raikkonen's talent.
That prompted Dennis to chalk out a unique deal with Sauber. Dennis apparently agreed to gift Sauber a wind tunnel and two trucks for logistics. These revelations were made in Kimi Raikkonen's autobiography – "The Unknown Kimi Raikkonen".
Despite much fanfare, Raikkonen's tenure at McLaren was lacklustre. This was mainly due to the car being extremely unreliable, costing Raikkonen dearly on multiple occasions. However, Kimi did manage to finish runner up in the championship standings on two occasions.
Return to Sauber
In September 2000, Peter Sauber invited Kimi Raikkonen for a test run. Raikkonen's carting escapades had greatly impressed the Sauber supremo. Kimi's principle of "talk less, drive more" resonated with Sauber's needs. Sauber was quick to catch on that Kimi was something special and had to be protected by all means necessary.
That was the start of the iceman's journey in F1.
2019 saw Kimi Raikkonen return to Sauber after 18 years. The team was rebranded Alfa Romeo and finished 8th in the points following a mixed campaign.
In 2020, Raikkonen will become F1's most experienced driver. The Finn will surpass Ruben Barrichello's long-standing record of 322 races. However, Raikkonen, in typically Kimi style brushed off the achievement.
"On that, not [excited]," he told Formula One.
"It gives me nothing.
"But I'm excited now to h 15.ave another go and we can improve from this year and learn the lessons from what we've done wrong and what we've done good and get a bit closer to the front,"
Alfa Romeo will unveil its 2020 F1 car on the first day of winter testing. The season begins in Melbourne on March 15.