Kimi Raikkonen Sets a Mind-Numbing Record at the Spanish Grand Prix
Published 08/18/2020, 3:27 AM EDT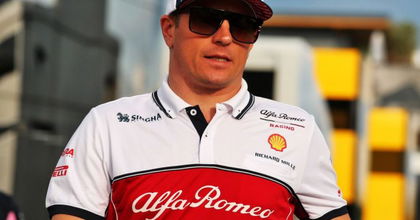 ---
---
Kimi Raikkonen has been around Formula One paddocks for a long time. To be precise, he has been in the sport ever since his debut back in 2001. Now, the veteran Finn has broken Fernando Alonso's record for the farthest distance ever raced in Formula One. On lap 37, the 2007 World Champion overtook Alonso's record of 83,882km.
ADVERTISEMENT
Article continues below this ad
Since Raikkonen managed to finish the race, he was able to extend his advantage to 84,013km. With plenty more races left on the calendar, Kimi Raikkonen has every opportunity to extend his mileage even further.
ADVERTISEMENT
Article continues below this ad
So far, six races are done and dusted, and there are plenty more on the calendar. An average Formula One race lasts over 300km, and there are seven more races left on the calendar.
If Raikkonen manages to finish each and every one of them, he will have added over 2100km to his repertoire.
That is not the only record that Kimi Raikkonen has
It is amazing that Kimi Raikkonen has amassed so much mileage, considering that he took a two-year-long break from F1. Raikkonen had actually taken a sabbatical at the end of the 2009 season and returned for the 2012 season.
It is also worth noting that Raikkonen has also completed the most laps out of anybody else, amassing 16,910 laps.
ADVERTISEMENT
Article continues below this ad
This takes him ahead of Michael Schumacher, who has 16,825 laps under his belt. As mentioned before, with seven races left on the calendar, there is a chance that Raikkonen can breach the 17,000-lap barrier.
However, knowing the kind of person that Kimi Raikkonen is, he would not care two hoots about any records. Instead, he would be solely focused on trying to lift the Alfa Romeo team from being at the bottom of the grid.
Currently, the Italian team is struggling and scraping the bottom of the barrel, battling the likes of Williams or Haas.
ADVERTISEMENT
Article continues below this ad