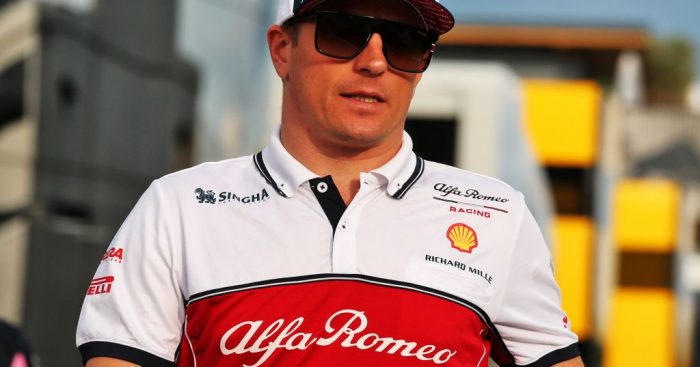 Alfa Romeo driver Kimi Raikkonen proved that there is still some life left in the old dog. The Finnish veteran topped the second day of Formula 1 pre-season testing in spite of causing a red flag.
Racing Point's Sergio Perez led the way for much of the session, until Raikkonen knocked him off his perch. The 40-year old set a scorching lap time of 1:17.091s on the C5 option tyres.
Despite his late stoppage, Thursday turned out to be quite productive for Kimi Raikkonen and Alfa Romeo. The 2007 world champion racked up 134 laps in the new Alfa Romeo C39.
Unfortunately, he also triggered the first red flag of 2020 when his Alfa Romeo ground to a halt with 17 minutes left in the session. Coming back to Sergio Perez, the Mexican driver could not match his morning effort, as Racing Point chose to focus on long-runs in the afternoon.
Rounding out the top three was Renault's Daniel Ricciardo, even though he clocked in the fewest laps of anybody. Behind him were Alexander Albon, Pierre Gasly, Sebastian Vettel, George Russell, Charles Leclerc, Lewis Hamilton and Lando Norris completing the top 10. The rest of the back included, Romain Grosjean, Esteban Ocon and Valtteri Bottas.
What does the future hold for Kimi Raikkonen?
The Finn is likely on his last legs in Formula One and may retire at the end of the season. However, if this performance on the second day of testing is to go by, he wants to go out on a high. Kimi Raikkonen even hinted at not sticking around in F1 for much longer.
Truthfully, Raikkonen has had a long and successful Formula One career. So when he finally decides to hang up his boots, he will have walked away with a wealth of experience. He may also try and train his children to carry on the Raikkonen name in motor racing.
1. Kimi Raikkonen Alfa Romeo 1:17.091 134
2 .Sergio Perez Racing Point +0.256 144
3. Daniel Ricciardo Renault +0.658 41
4. Alex Albon Red Bull +0.821 128
5. Pierre Gasly Alpha Tauri +1.030 143
6. Sebastian Vettel Ferrari +1.063 73
7. George Russell Williams +1.175 116
8. Charles Leclerc Ferrari +1.244 49
9. Lewis Hamilton Mercedes +1.296 106
10. Lando Norris McLaren +1.383 133
11. Romain Grosjean Haas +1.405 158
12. Esteban Ocon Renault +1.466 46
13. Valtteri Bottas Mercedes +2.216 77