Kubica Backs Pirelli Amid Baku F1 Fallout & Max Verstappen's Sharp Criticism
Published 06/29/2021, 5:50 AM EDT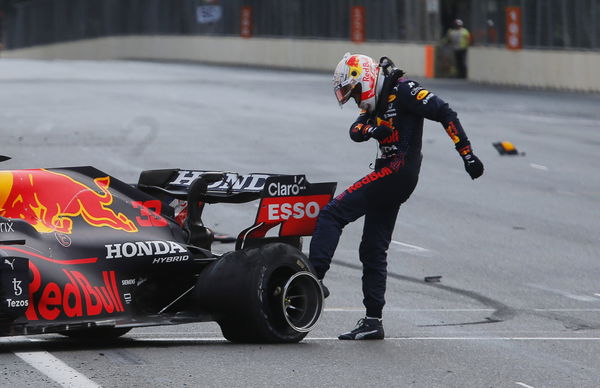 ---
---
There was huge drama at the Azerbaijan Grand Prix this season, with Lance Stroll and Max Verstappen falling victim to huge crashes. The reason behind both their crashes was a tire blowout.
ADVERTISEMENT
Article continues below this ad
Verstappen, as well as his team, was pretty vocal about the safety of the tires. None of the systems on his car hinted at any malfunctioning, and Red Bull believe that it could have lead to a fatal crash.
While Pirelli stated that debris was the reason behind the blowout, many entities in the paddock opted to hold the tire manufacturer responsible for what happened.
ADVERTISEMENT
Article continues below this ad
However, veteran F1 driver, Robert Kubica, doesn't share the same opinion and thinks that Pirelli is doing its best in Formula One.
Kubica thinks that Pirelli have improved Formula One
As quoted by RaceFans, Kubica said, "I know there is a lot of complaints about the Pirelli tires, but the fact is that with the current weight of F1 cars, it's not as easy as it was 15 years ago when the cars were 150 kilos lighter.
"I think there is still margin to improve, especially on some sample ones that I think were working very well and some others [had] things that hopefully Pirelli will be able to improve.
"It's difficult because in the end, they have to deliver a product which works for every car and it's impossible to make everyone happy. And also for them, with the regulation change it's a big unknown but I had a positive feeling about the prototype 18-inch tires," the Polish driver explained.
Watch Story: From Serena Williams to Chris Hemsworth: Celebrities Lured by the Glitz and Glamor of Monaco
What did Max Verstappen say about the tire manufacturer?
It is understandable that the Dutchman wasn't pleased about his race in Baku. He looked set to win the Grand Prix and extend his championship lead, moments before the tire "puncture" saw him retire from the race. Ever since then, the Red Bull prodigy has voiced his concerns about Pirelli.
As quoted by PlanetF1, Verstappen said,  "Pirelli will probably say it has to do with debris. You will never get the full answer to that. "You can say that, but everyone has already done that for a few laps before that.
ADVERTISEMENT
Article continues below this ad
"So at some point the debris has to be gone. I don't think it's that, although Pirelli will of course give a different answer," he concluded.
Thankfully, there hasn't been an incident like at the Azerbaijan Grand Prix again. Drivers and Pirelli have communicated and ensuring that these incidents will not occur again as the season progress.
ADVERTISEMENT
Article continues below this ad