Lando Norris Explains His Candor Regarding Mental Health
Published 10/10/2021, 4:53 AM EDT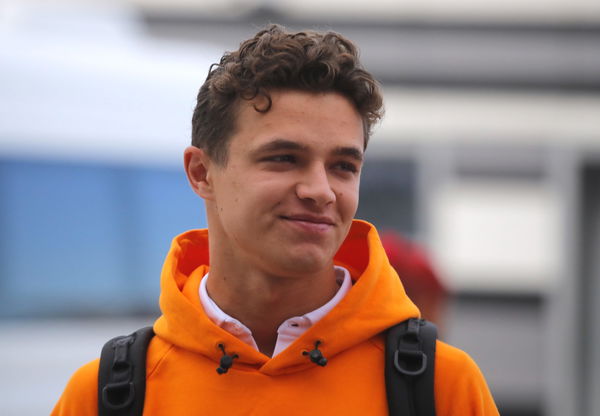 ---
---
Formula one appears to be one of the toughest sports- the sport filters and then pits only 20 of the best drivers from around the world against each other. It can be quite difficult being in that tight competition. Lando Norris has constantly been the flag bearer for mental health in the sport; his recent interview with 'This Morning' showed a more vulnerable side to the driver. Once again, in bringing up an important topic, he made people feel seen- as was his purpose.
ADVERTISEMENT
Article continues below this ad
Norris' interview shed the spotlight on the emotionally taxing aspect of the sport. Especially after Norris' misfortune in Sochi, the talking point was better explained. Now, Norris explained why he feels it necessary that such topics are discussed openly.
ADVERTISEMENT
Article continues below this ad
Mental health isn't something that's heard about coming from F1 drivers- it almost gives on to the perception of weakness. Lando admitted that it's difficult to show his sensitive side. "But I'm not [weak]. I'm strong."
A stunning driver on the track, Norris had discussed the pressures that come with being a young driver on the grid; the uncertainties that his age, and the nature of the sport being terrifying. When the anxieties of the race "start adding up over the season, and the social media side of it all – it can really start to hurt you."
Lando Norris explains the necessity of honesty
The interviewer asked Norris why he did the interview, and Norris had a candid reply. "Cause it's who I am; cause it helps other people and if it helps other people, it makes me happy."
Further, he adds that one could easily compare the stresses of his job to anyone else's. In relating to his audience, Norris is further propelling his sincerity and reliance as an F1 driver. "Not just Formula 1, any situation, any job you have, any position you can be in, it can be stressful. But then, it's not just stress, what consequences it can have on a person, as a human that makes him struggle even more than it should."
Norris also understands his influence as an F1 driver; this helps him use his platform to help people feel seen. "It's not perfect for me and I struggle with many things. Although I'm living the dream of many people and I'm very lucky to be in this position, I still struggle mentally and personally and it makes other people understand that we're the same as them. "
ADVERTISEMENT
Article continues below this ad
As Norris continues to help the people around him, his efforts were not in vain. Many thanked the driver for opening up about his problems, making them feel like a part of a larger community. Further, Norris isn't just about his words. The McLaren driver and his team also collaborated with Mind to raise awareness for mental health.
ADVERTISEMENT
Article continues below this ad
An inspiring young personality on the grid, Lando Norris continues to gain the respect and love of those around him.
Watch this story: Lewis Hamilton's Incredible Car Collection