Lando Norris Left With Mixed Feelings After Driving Mclaren F1 2020 Car
Published 03/08/2020, 4:48 PM EDT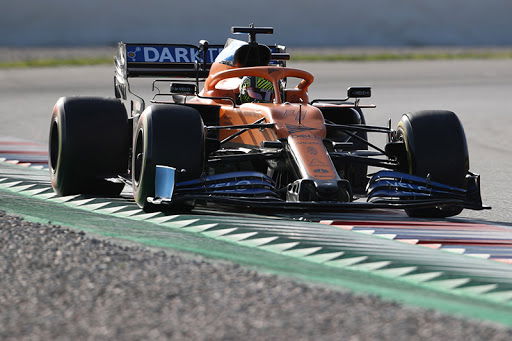 ---
---
Lando Norris accepts the MCL35 is an increasingly reliable vehicle to drive contrasted with its 2019 antecedent. Yet there are still a few shortcomings that mean they are not as quick as they might want to be. The McLaren F1 Team driver is going into his second season in Formula 1 in the wake of debuting last year.
ADVERTISEMENT
Article continues below this ad
He barely missed out on the best ten in the title, missing out to Sergio Pérez in the last race of the period in Abu Dhabi when the Mexican made a late go for the seventh position.
Norris says that McLaren F1 is far short with their MCL35 contrasted with the W11 offering from the Mercedes F1. He feels is the vehicle to beat in all territories in 2020. Be that as it may, he can go into the season realizing he can stretch more as far as possible than he could have finished with the MCL34.
ADVERTISEMENT
Article continues below this ad
Mclaren F1 MCL35 better than MCL34
Lando Norris is happy with the Mclaren F1 2020 challenger.
https://www.instagram.com/p/B8zI-CVnfbM/
"I'm very happy with things and the progress we've made since [the first test]," said Norris.  "Because of all the things like the wind, it's been very hard to get a good feeling of what the car is like.
"But I'm happy. I think we have an understanding at least of what the car is good at and what it's not good at. And those areas that we have to work I think it's very clear.
ADVERTISEMENT
Article continues below this ad
"I'm happy with [some] areas and how it's improved compared to last year in some areas," Norris is quoted as saying by Motorsport.com.  "Some areas it's does not move as much as what I would have liked.
"Areas it's not good at compared to Mercedes – [they] are the fastest – probably everything.  I don't think there's any area where we're as competitive as Mercedes. [If I could] be harsh, I could say it's not good enough in any area, but in terms of progress, which is not easy to do in Formula 1, I'm happy. Obviously I'm not going to say the areas.
Have you joined our Formula One fantasy league yet?
Join now: https://fantasy.formula1.com/league/100476?ftm=email
ADVERTISEMENT
Article continues below this ad