Lando Norris Reveals Reason Behind Whopping $94 Million McLaren F1 Contract
Published 05/07/2022, 1:15 PM EDT
Lando Norris started the season by signing a lucrative new contract with the Woking base worth $94 million. However, fans and many experts doubted his judgment to stay with a team for such a long period. However, the young driver shared his reasons for the action.
ADVERTISEMENT
Article continues below this ad
McLaren's struggling form in the first race raised doubts about Norris's decision. But the young Brit revealed his reason for extending his stay at McLaren even before the season began. Norris has been a fan of the Papaya outfit since he was a kid. Also, he always thought of the McLaren F1 team as his family. And he would like to continue working with them.
ADVERTISEMENT
Article continues below this ad
Norris shared, "The new contract is very special actually. McLaren is the team I came into Formula 1 with, and they're the team I was cheering on and loved more than anything when I was 7 years old [and] first getting into Formula 1."
"To continue something with a team for more than just a year creates a better story and a much better harmony within the team." The 24-year-old driver further stated, "A team becomes more of a family rather than people you just work with — it's significantly more than that," the Brit concluded.
McLaren honored to have Lando Norris on a long run
The 24-year-old is undoubtedly one of the best young talents in the sport. He even shows the potential to become a world champion in the future. So, the Woking base is glad to have such an excellent prospect for a longer term.
Team Principal Andreas Seidl shows gratitude towards the young Englishman for showing such confidence and faith in the Orange outfit. Seidl sees him as a key figure in McLaren's journey toward the fight for winning the championship.
ADVERTISEMENT
Article continues below this ad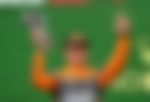 Norris has consistently showcased his talent ever since he became an F1 driver with McLaren back in 2019. Last season, he was phenomenal and even outperformed his veteran teammate Daniel Ricciardo.
Seidl said, "We are still on our journey to fight at the front, and [Norris] is a key element of our plan, so to lock him into place, alongside Daniel Ricciardo and our senior leadership, gives us stability and continuity as we build toward our ultimate shared goal of world championships."
ADVERTISEMENT
Article continues below this ad
WATCH THIS STORY: Mclaren F1 Boss Uses Carlos Sainz And Daniel Ricciardo To Highlight Major Flaws With Red Bull Racing
Norris had a turbulent start in the 2022 season, but he regained his excellent form in the second race and even scored a podium in Imola. Now he's in the Magic City for the inaugural Miami GP. What do you expect from Lando Norris in the Miami race?