Lando Norris Reveals the Real Influence Behind His Helmet Collection
Published 10/03/2021, 4:29 AM EDT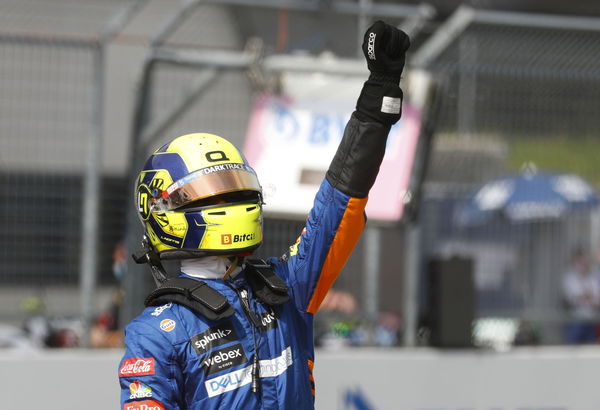 ---
---
The Formula one grid for the 2021 season has an impressive mixture of young talent and experienced veterans. One of these young talents who is definitely making a name for himself is Lando Norris. Regularly putting his car into the top 6, Lando was even chasing his first-ever Grand Prix victory at Sochi. But the weather gods literally decided to rain on his plans.
ADVERTISEMENT
Article continues below this ad
A regular streamer and YouTuber apart from being a racer, Lando recently uploaded a video in his Quadrant YouTube channel explaining his most famous helmet designs and the inspiration behind them.
WATCH STORY: Road cars inspired from F1 technology
ADVERTISEMENT
Article continues below this ad
A fusion of all aspects of Motorsports
Lando Norris started off the video with a helmet from 2009. From his first season in karting, when he was 8 years old. He explained that it was his first full racing season, and the helmet was the first-ever customized printed helmet that he had.
"It kind of was the same color as the go-kart as I was racing, which was orange, black, and chrome, so it kinda went all together really well."
Lando then revealed the inspiration behind the helmet design. It is his childhood hero, MotoGP legend Valentino Rossi.
He said, "Inspiration for the helmet design, was, of course, Valentino Rossi. He was the guy I loved at the time, still do. This is basically a copy of his sun. Obviously, he normally has the moon as well, the sun and the moon. In my own colors a little bit, but this was the first interpretation of what I wanted to show on the helmet."
Lando then went on to say that it was one of his favorite helmets to date.
Lando Norris evolved his helmet design around his childhood hero
The next helmet design that Lando explained was from 2014. It was after he won the World Championship in the Senior Karting Championship.
ADVERTISEMENT
Article continues below this ad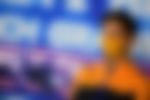 The McLaren prodigy then explained even that helmet was inspired by his hero Valentino Rossi.
"This is where I started to get a lot more into the Valentino Rossi yellow side of it. Before it was just the design, not really the colors. That was one, but then two is, the evolution of the sun on the side, extending the flames to the side of it."
ADVERTISEMENT
Article continues below this ad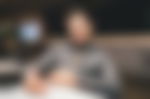 Lando had revealed earlier that he took a lot of interest in his helmet designs. He even designed them by himself. He is definitely one of the most charismatic personalities on the grid and a media sweetheart too!