Lando Norris Showers Huge Compliment on McLaren F1 Teammate Daniel Ricciardo
Published 09/06/2021, 10:16 AM EDT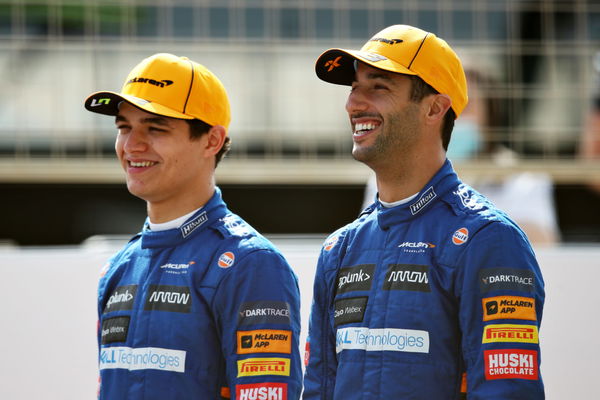 ---
---
The popular narrative surrounding Lando Norris and Daniel Ricciardo's relationship is one of hatred. However, ahead of the Dutch GP, Norris busted these speculations by explaining his growing bond with the Aussie.
ADVERTISEMENT
Article continues below this ad
A young fan asked Norris to rate his teammate. Norris jokes about Daniel's age, which in reality, plays a major factor in the difference in off-track interests. The Brit explains, "He's into wine and stuff like that so he's got to that point in his life. He is [very old], in his mid-thirties."
ADVERTISEMENT
Article continues below this ad
Having laughed about the age difference, Norris stated that his getting to know Ricciardo. "He's a great guy and we get along and we're still getting to know each other more and more even at this point of the season," and wishes to continue to do that for the years to come.
Nonetheless, Norris looks at Ricciardo as someone he can learn a lot from; his decade-long experience on the track has a lot to give. "He's one of the greatest drivers that we've seen in Formula 1 and there are a lot of great things about him. So, there's many things I can learn and take on board and use to help me become a better driver."
Lando looks to his Aussie partner to learn things on and off the track but shares a very important lesson in Ricciardo's determination.
Lando Norris shares unseen Ricciardo experiences
Lando Norris continued with his praise for Daniel. Although, Norris revealed his insight into Ricciardo's struggles this season, and how there's a lesson in that as well.
ADVERTISEMENT
Article continues below this ad
Norris shared his off-camera understanding of Daniel. "Maybe people won't necessarily see from on boards or cameras or from on TV but, the data and details he goes into, his engineers and things, and how hard he's worked to make improvements since the beginning of the season; all attributes to a guy who's been able to win seven races." 
A solid driver on and off the track, it's good to see the McLaren duo warm up to each other. After a difficult race in Holland, McLaren lost its P3 championship position; one they will have to fight hard for on Ferrari's home ground in Monza.
ADVERTISEMENT
Article continues below this ad
Watch this story: Top 5 Williams F1 Liveries of All-Time