Lando Norris Slams F1 Viewers for Creating 'Absolute Crap' Out of the Wave to Ricciardo in Monaco
Published 05/27/2021, 2:05 AM EDT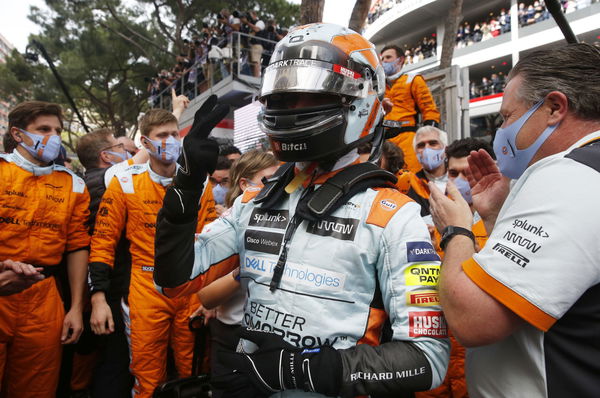 ---
---
Lando Norris enjoyed an exceptional race at last weekend's Monaco Grand Prix, where he secured his second podium of the season for McLaren. However, the Briton triggered a bit of controversy during the race, when he waved to Daniel Ricciardo while passing him under the blue flags. This generated a massive number of stories from the fans, with quite a few even speculating that Norris was waving goodbye to the Australian.
ADVERTISEMENT
Article continues below this ad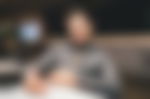 Well, with the ever-growing stories around this incident, Norris has finally revealed the reason behind the wave to Ricciardo.
ADVERTISEMENT
Article continues below this ad
What did Lando Norris say?
While streaming on Twitch, Norris clarified he has the habit of waving thank you to the back-markers when passing them under blue flags. He also slammed the fans for creating such "nonsense" stories out of the wave, that was intended to be out of respect for his teammate.
"Alright, so I see so many of you make up absolute crap and nonsense as usual," he said. "By the way, anytime someone lets me pass for a blue flag, anyone, if they get out of the way properly and they should, I put my hand up and say thanks, alright?"
The scenario of Norris lapping Ricciardo in a race has always looked imminent, considering the latter's immense struggles since joining McLaren earlier this year.
A poor qualifying session meant Ricciardo found himself surrounded by much slower cars in the race. Meanwhile, there was Norris, comfortably racing in free air in P4. Hence, Norris lapping his teammate was always coming at some point in the race at Monte Carlo.
I wave to freaking everyone: Norris
The McLaren driver opened up that apart from Ricciardo, he also waved to both the Haas drivers, Nikita Mazepin and Mick Schumacher, during the Monaco GP race.
"I did it to freaking everyone; Mazepin, Schumacher, Danny. Whoever I passed and they got out of the way, I put my hand up and say thanks," he said.
ADVERTISEMENT
Article continues below this ad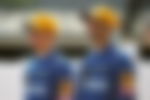 "So, don't just notice one when I passed Danny and think I'm doing something that is not right. Let me just get that point across because I see a lot of stories that people make up."
A yet another strong race seems to be in the offing for McLaren at Baku. Moreover, with a Mercedes engine at the back, the British team might even be unstoppable through the approaching race weekend. So, will Ricciardo step up alongside Norris to deliver McLaren their strongest race finish of this season?
ADVERTISEMENT
Article continues below this ad