"Leave Him Alone"- Hamilton Steps Up to Defend Bottas Amid Mercedes F1 Exit Rumors
Published 07/12/2021, 1:21 PM EDT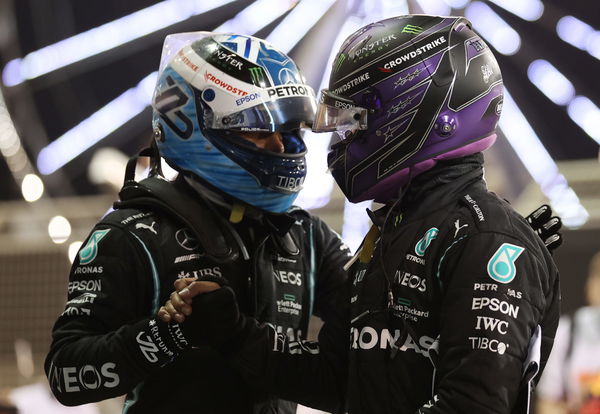 ---
---
The entire second seat fiasco at Mercedes has opened a can of worms on the internet. Speculations are all over the place. And while it is fine to assume things regarding the team; Valtteri Bottas has come in the line of fire for no reason.
ADVERTISEMENT
Article continues below this ad
Trolls on the internet have not made things easy for the driver. Lewis Hamilton wishes people would quit being so hard on his teammate.
"I would like people to leave him alone and stop talking about his relations with the team, Valtteri needs to focus on his work," comments Hamilton.
ADVERTISEMENT
Article continues below this ad
He has even said that he would like Bottas to stay with the team. There has been no visible animosity between the two drivers. Bottas has always been in a difficult position, driving in Hamilton's shadow. Yet, the two have made a great team at the Silver Arrows.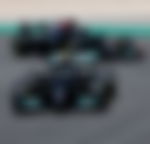 Lewis Hamilton and Valtteri Bottas- A superior pairing
For Hamilton, 5 years of respectful competition followed four years of a toxic rivalry with Rosberg. What Hamilton and Bottas have can't be compared to the fun duos we've seen on track- but that doesn't mean that the esteem isn't there.
As Lewis mentioned, "Over the years, Valtteri and I have built a very solid relationship, and the fact that we know each other so well makes us excellent teammates."
Lewis doesn't stop there,"We are currently the best-matched couple in Formula 1 from the point of view of the balance within the team and the understanding we have in working on the development of the car." The tandem between the two solves most of the team's problems.
ADVERTISEMENT
Article continues below this ad
The Brit also believes that Bottas will improve more with time. Out of the 166 races that the Fin has started, he's stood on the podium 61 times. That is no easy feat. Lewis' frustrations are valid as Bottas isn't stagnant yet. One can see him improving with every race.
"It's not just a question of performance. We will continue to work together as we always have, with the hope of being able to do it even better in the future," Lewis concludes.
As much as this would make for a dramatic 'Drive to Survive' episode, everyone needs to cut Bottas some slack. He has enjoyed a brilliant stint with Mercedes and fully deserves the seat he is in.
ADVERTISEMENT
Article continues below this ad
Watch this story: Lewis Hamilton's Biggest F1 Crashes