Lewis Hamilton Becomes the First F1 Driver to Voice Out Against FIA Over Coronavirus
Published 03/12/2020, 5:05 AM EDT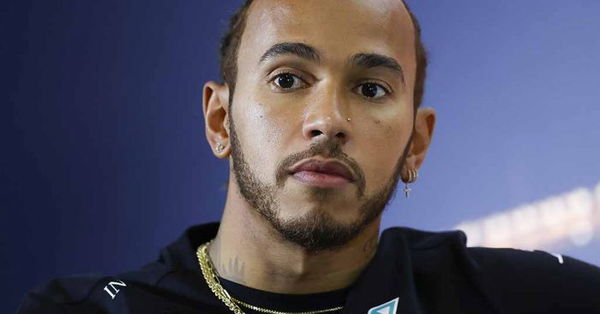 ---
---
The coronavirus pandemic has led to several sporting events have taken one of three options. For the events that are going ahead, they are mostly behind closed doors. Meanwhile the other options are either rescheduling the event or cancelling it entirely. However, the Australian Grand Prix will proceed at normal. Of course, this has rubbed Lewis Hamilton and a few other drivers up the wrong way.
ADVERTISEMENT
Article continues below this ad
The defending champion admitted that he was "very surprised" that the Australian Grand Prix is going ahead as planned. Already, the virus has shot a few warning signs, with a few staff members from various teams placed in isolation.
During the pre-race press conference, Lewis Hamilton said, "I am really very, very surprised that we're here. I don't think it's great that we have races but it really is shocking that we're all sitting in this room."
ADVERTISEMENT
Article continues below this ad
"It seems that the rest of the world is already reacting a little bit late, but you have seen this morning with (President) Trump shutting down the border to Europe to the States, the NBA suspended, yet Formula One continues to go on. It's a concern I think for the people here. It's quite a big circus that's come here, it's definitely concerning for me."
Interestingly, Hamilton, Nicholas Latifi, Sebastian Vettel and Daniel Ricciardo kept their distance from the press. Admittedly, Sebastian Vettel opted for a diplomatic answer. He confessed that it is difficult to judge the course of action.
He insisted that the drivers and teams need to have some faith in the FIA to take precautions. However, he warned that nobody can can control what is going on. However, Lewis Hamilton had had enough of niceties and flatly declared that he didn't know why F1 is going ahead.
Well played Lewis Hamilton for having the balls to speak about the coronavirus. Says he's "surprised" the race is going ahead. And "shocking that we are all in this (press) room.". This is what makes a proper champion. Not any of this "we trust the FIA" PR speak.

— Ben Hunt (@benjhunt) March 12, 2020
ADVERTISEMENT
Article continues below this ad
Is Lewis Hamilton justified in his concerns?
Australian Grand Prix Corporation chief Andrew Westacott insists that they are doing everything they can to monitor the situation.  Worryingly, Australia has reported 150 confirmed cases, which includes several fans who attended various sports events.
In addition to that, Europe appears to be in a far worse state, and most of the F1 teams and media personnel hail from Europe. To mitigate the threat, Formula One is limiting driver-fan interaction and autograph sessions. hey even banned people from taking selfies with the drivers.
ADVERTISEMENT
Article continues below this ad
Furthermore, Esteban Ocon and home hero Daniel Ricciardo skipped a press conference. Meanwhile, Max Verstappen and Alex Albon remained in an exclusion zone during a Red Bull event. Teams even scrapped collective TV interviews, where media often crowd around the drivers. The real question that Lewis Hamilton and other drivers will be asking is, will it be enough?