Lewis Hamilton, Dethroned By Max Verstappen, Disregards the Reigning F1 Champ as a Worthy Successor
Published 09/26/2022, 9:43 AM EDT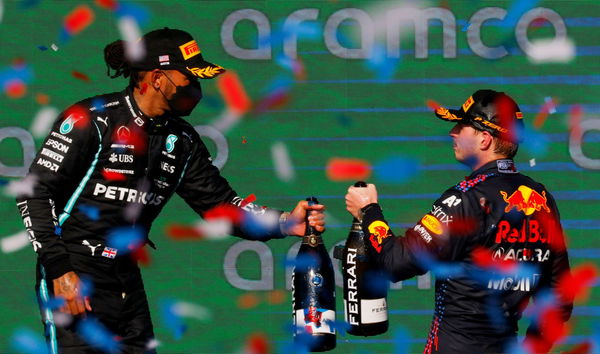 Lewis Hamilton has won 7 World Championships in his career. And if that is not enough, the Mercedes star has 103 race wins and 188 podium finishes, more than any other F1 driver. There's no doubt that the boy from Stevenage has had a glittering career. However, with Hamilton turning 38 next January, it is only fair for one to ponder who would be his successor in F1.
ADVERTISEMENT
Article continues below this ad
Naturally, people's top choice would be Max Verstappen, who beat Lewis Hamilton last year to clinch his maiden World Title. But back in 2021, when the 2021 season was still in progress, Lewis Hamilton didn't share this feeling.
ADVERTISEMENT
Article continues below this ad
When asked if Max Verstappen is his natural successor by AS, Lewis said, "I do not know. There's a good group of young talent here. Given the chance, Lando (Norris) for me has huge potential, and so does Charles (Leclerc). I don't know how to predict who among them will lead this sport." (Translated with google translate)
Hamilton's Mercedes teammate George Russell himself is another talented driver. The former Williams man has been impressive since his move to Mercedes.
Lewis Hamilton talks about the next generation of F1 drivers
With F1 veterans, like Fernando Alonso and Lewis himself, slowly approaching the end of their careers, he talks about the next generation of drivers. He also reminisced about the drivers before him and states that every generation will have its era.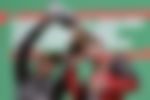 Hamilton stated, "I don't know if I can judge if it's a good or bad generation. There are always riders who arrive, in my case I did it with Nico (Rosberg) and Kubica, just before there was Alonso, the Schumacher era… there will always be an era." 
ADVERTISEMENT
Article continues below this ad
The Mercedes man further added, "For me personally, we live in a time where this has become a billionaire boy's club. If I had to start over from a working class family, it would be impossible for me to be here today."
Lewis also emphasized the importance of making F1 accessible, not just for wealthy individuals, but for people with humble backgrounds as well.
WATCH THIS STORY: Lewis Hamilton Kicks Off Mammoth $140 Million Hollywood Passion Project
ADVERTISEMENT
Article continues below this ad
With no wins so far this season, Lewis Hamilton and Mercedes have struggled with the W13. Furthermore, to make matters worse, Max Verstappen and Red Bull have won 11 races and 5 on the spin.
Now, would that be enough for Lewis to think of Max as his natural successor? According to you, which driver will succeed the most when Lewis Hamilton retires?