Lewis Hamilton Expresses Frustration With Recent F1 Calendar Change After Turkish GP Exit
Published 05/15/2021, 2:09 AM EDT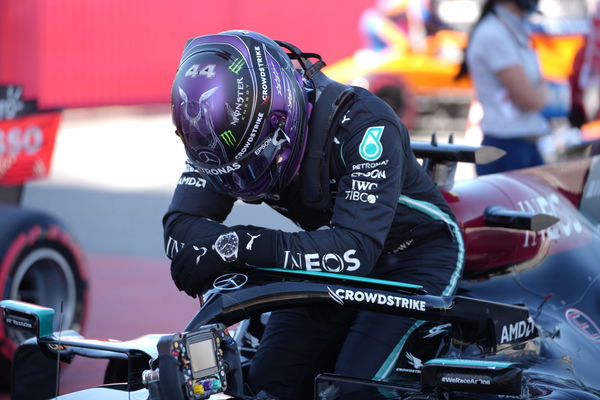 ---
---
F1 had been in a bit of a scuffle over the past few days, with Turkey bowing out of the calendar, just weeks away from the race weekend. However, the sport seems to have fought its way through the confusion and unveiled an optimized 2021 racing calendar. But it looks like Lewis Hamilton isn't too happy with these tweaks.
ADVERTISEMENT
Article continues below this ad
The sport recently posted the revised 2021 racing schedule, with Austria replacing Turkey's slot. This means that Spielberg will host two F1 races in a single season only for the second time, with the former being in 2020.
What's more, the French Grand Prix found itself being rescheduled to a much earlier date between June 18 and 20. This weekend will be followed by the two outings at the Red Bull Ring. The first race will take place on June 27, with the second race over the subsequent weekend on July 4.
ADVERTISEMENT
Article continues below this ad
Lewis Hamilton reacts to the F1 calendar
The Mercedes driver looked a bit dejected citing the changes to the ongoing season's racing calendar. While he never really opened up about it, all he required was an emoji to express his opinion.
F1 took to social media to reveal the altered racing calendar for 2021, and there was Hamilton in the comments section. The Briton reacted with a head-slapping emoji, which quite evidently shows that he is displeased with it.
There could be multiple reasons, but the primary reason that comes to mind is that he is disappointed with Turkey's exit. The Mercedes star won his seventh world championship title at Istanbul Park last season, not before portraying a stellar tire management skill.
Despite struggling through most parts of the race, Hamilton went on to win the race with a hefty lead of over 30 seconds.
Why is Turkish GP canceled?
Weeks ago, the United Kingdom added Turkey to its 'red list,' which means that people cannot enter the nation without quarantining, or sometimes could be denied the entry itself.
ADVERTISEMENT
Article continues below this ad
And since most of the F1 teams' headquarters are located in and around the UK, it could be a huge headache if the crews end up being denied entry into any of the UK's countries. Hence, citing the massive risk factor in entering Turkey, F1 decided to terminate the race for this season. Consequently, it looked like the sport might go forward with 22 races, considering the lack of options as replacements.
ADVERTISEMENT
Article continues below this ad
However, now, Austria has stepped up to host two back-to-back race weekends, similar to last season. So, will Mercedes yet again dominate at Red Bull's home Grand Prix? Or will the Milton Keynes outfit manage to reclaim their throne?