Lewis Hamilton: F1 Battles With Vettel 'Took a Lot Out of Both of Us'
Published 04/15/2021, 3:24 PM EDT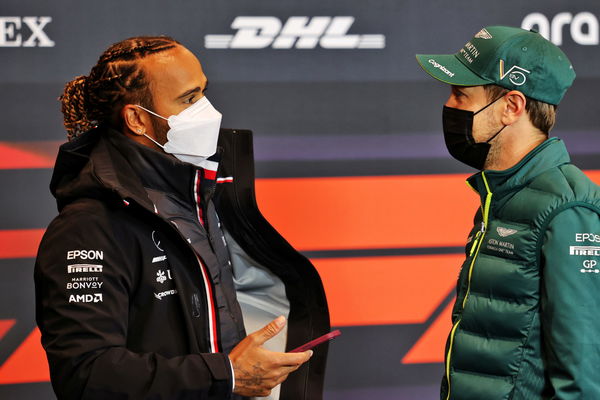 ---
---
It is known amongst the F1 fans that Lewis Hamilton and Sebastian Vettel were part of one of the greatest rivalries of the 21 century. While the former always came out as the best, the German wasn't too far off either, keeping his Ferrari right on Hamilton's tail.
ADVERTISEMENT
Article continues below this ad
Although the on-track battles were a treat to watch, the 7-time world champion opened up that it took a toll on both the drivers.
Furthermore, the fact that both were racing for different teams, who coincidentally turned out to be rivals as well, the Briton felt that the pressure was much more immense.
ADVERTISEMENT
Article continues below this ad
What did Lewis Hamilton say?
During the press conference in Imola ahead of the race weekend, Hamilton revealed how hard it was to race against Vettel during the latter's phase with Ferrari.
"I think it is just knowing how hard it is to be where we are today, knowing that I was racing against an incredible driver, and not only that but a great man in Seb," he said. "He's a four-time world champion.
"And we were racing against another team. He was at Ferrari, who were very strong at that time. So, it took a lot out of both of us in that period of time, to remain focused, to deliver weekend in weekend out."
Although Vettel's period with Ferrari dates back to 2015, the German started showing his true pace from the 2017 season. By the end of that season, just 46 points separated Vettel from Hamilton.
And it was yet again a great start to the 2018 season, with Vettel winning the initial 2 races. But a late comeback from Hamilton meant that Vettel couldn't finish off what he had started.
It brought us closer: Hamilton
The 7-time world champion felt that the intense rivalry brought himself and Vettel much closer than expected.
ADVERTISEMENT
Article continues below this ad
"And whilst it was a difficult period for us, it brought us closer as well. Because the respect that we have between us is huge," he said.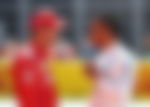 While it has been a consistent phase for Hamilton, with race wins and ultimately the championship wins, it hasn't been a journey as easy for Vettel. After being left out by his dream team, Ferrari, the German found a home in Aston Martin but is yet to get a grip with the tricky car.
ADVERTISEMENT
Article continues below this ad
Hence, will fortunes change in time for Vettel with his new team? Can Aston Martin ultimately provide the 4-time world champion with a fast-enough car to rekindle the rivalry between their trusted driver and Hamilton?