Lewis Hamilton Hails Big Mercedes 'Gamble' for Spanish GP Win
Published 05/09/2021, 12:23 PM EDT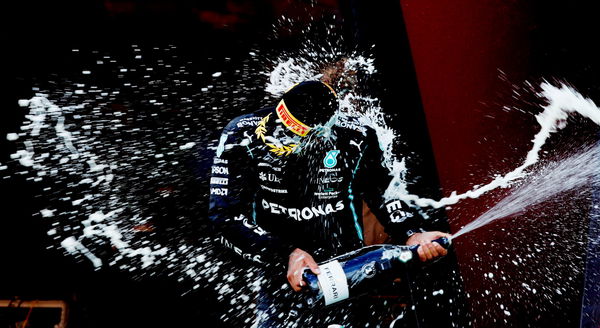 ---
---
It was yet again Lewis Hamilton who dominated the grid and went on to claim his third race of this season at the Spanish Grand Prix. The win came after Max Verstappen ousted the Briton during the race start and continued to lead through most part of the afternoon.
ADVERTISEMENT
Article continues below this ad
So, who really played the major part in Hamilton's race win? Well, it is Mercedes that deserves part of the credit for their astonishing strategical gamble with the Briton.
When his chances of winning the race were potentially shut midway through the race, with Verstappen pacing well ahead, the Stuttgart outfit switched to a shocking two-stopper. And what was the outcome?
ADVERTISEMENT
Article continues below this ad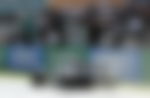 Well, the seven-time world champion closed down a mammoth 22-second gap to the Dutchman in almost 15 laps and blitzed past the Red Bull driver in no time.
Over the pursuit, the Mercedes driver constantly posted lap times that were nearly two seconds quicker than the race leader. And in the end, Hamilton had a healthy lead of 15 seconds over Verstappen.
Hence, following the checkered flag, Hamilton applauded the Mercedes crew for managing to squeeze a win out of a race that had a Verstappen's victory written all over it.
What did Lewis Hamilton say?
During the post-race interview, Hamilton revealed that the team were aiming for a two-stop race the whole time. Furthermore, he reckoned he was aware of how hard it is to finish a race on a one-stop strategy in Barcelona.
"There's a long way to come back from 20 odd seconds. But it was a good gamble, a really great strategy by the team," he said.
"It had been the plan all weekend; for us to make sure we had two mediums to be able to do 2 stops. Even though a one-stop potentially looked better, I know from experience here that a one-stop is very very hard to pull off."
ADVERTISEMENT
Article continues below this ad
"I was really conflicted, like do I come in? Or do I ignore the call and stay out? And obviously, I did what the team asked. And naturally, that's because there's a great trust between us. But, it's a remarkable job by everyone in this team through and through. And yeah, what a day!"
The race win in Barcelona felt like a deja vu, reminding the entire fandom of the 2019 Hungarian GP.
ADVERTISEMENT
Article continues below this ad
Overall, Mercedes have yet again come up ahead of Red Bull with the help of incredible strategy calls under pressure. Meanwhile, the Milton Keynes outfit would be beating themselves up for not pitting Verstappen for a second time.
So, can they make a stronger comeback in the classic Monaco Grand Prix and keep their battle against Mercedes afloat? Only time will tell.