Lewis Hamilton Hilariously Trolls Perez Over Intense F1 Workout
Published 04/16/2021, 2:23 AM EDT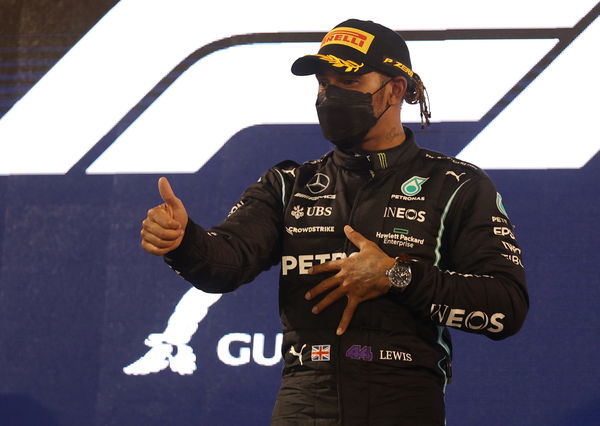 ---
---
It has been a while since Lewis Hamilton showed his funnier side to his fans and has rather been focusing on global issues when it comes to social media posts.
ADVERTISEMENT
Article continues below this ad
Well, the wait is finally over, as the 7-time world champion posted a hilarious story on Instagram using Sergio Perez's recent workout video.
What did Lewis Hamilton share?
ADVERTISEMENT
Article continues below this ad
Hamilton took to social media to have a laugh at the Mexican's recent post and related it to a scenario whilst on a date. The Briton shared his fellow F1 colleague's workout video on his story, with a priceless caption.
"That moment when you've been holding one in on a date. And she finally leaves. And you let it go. Sorry, Sergio Perez, had to do it," it read.
Perez shared the video on social weeks back, showing the intense workout an F1 driver had to go through ahead of each race weekend.
This trend was kick-started by Pierre Gasly. The AlphaTauri driver posted a video on social media showing his preparations ahead of the 2021 F1 season.
The struggles were very much evident in their facial expressions. And the videos made a coherent statement that F1 is one of the toughest and physically demanding sports.
Hamilton's most hilarious social media post
This isn't the first time Hamilton shared laughable content on social media. There was a time when the Briton's post created a laugh riot amongst the fans.
In 2018, Hamilton shared an amusing video on social media, featuring Hollywood star, Will Smith, where the latter "hijacked" the Briton's car over the final race weekend in Abu Dhabi. Hamilton had already won the championship over the season, and there was nothing in the final race for the 7-time world champion.
Hence, the act portrayed Smith showing interest in filling up for Hamilton for the final race weekend. And unsurprisingly, Hamilton denies the American's offer. Hence, the actor ties Hamilton to a chair with a rope while the former takes over the Mercedes W09 for the race.
Overall, this would have been a breath of fresh air for Hamilton's fans, considering their idol hasn't been joking around as often these days. Hence, could this be the wake of a new and a more hilarious version of the 7-time world champion? Well, let's hope so.
ADVERTISEMENT
Article continues below this ad
ADVERTISEMENT
Article continues below this ad