Lewis Hamilton Makes an Honest Revelation Regarding Lando Norris Battle at Russian GP
Published 09/26/2021, 11:46 AM EDT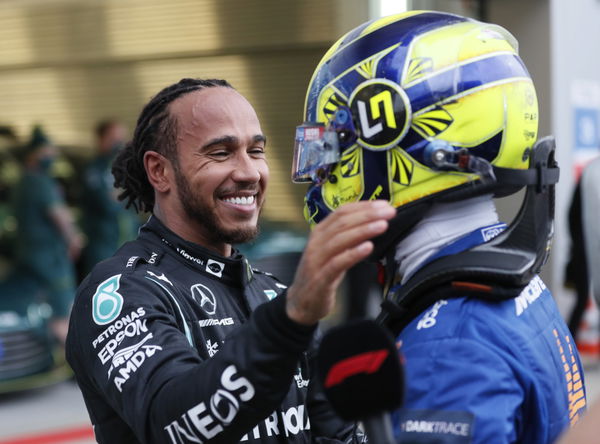 ---
---
Lewis Hamilton tasted the victor's champagne for the 100th time at the Russian GP this Sunday. However, the win wasn't handed to him on a platter. McLaren star Lando Norris gave the champion a tough fight; one went down to the wire. An error in judgment robbed Norris of what would have been a well-deserved maiden win. Even Hamilton agrees so.
ADVERTISEMENT
Article continues below this ad
The race winner praised his compatriot for the challenging race. "Lando did a fantastic job. He had an incredible pace." Praising McLaren for their incredible improvement in the recent races, Hamilton made an honest admission. "It would have been hard to overtake Lando without the rain, but when it started raining we were opportunistic."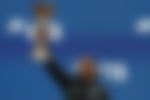 For a race that boiled down to the last-minute pit stops, Hamilton also credited his team for the timely decision to box. " I wasn't sure what would happen in the end because the weather was unknown, but I'm grateful to the team for calling me to the pit. Thanks to them I managed to take victory number 100."
ADVERTISEMENT
Article continues below this ad
A well-deserved 100th race was a long time coming for Lewis Hamilton. However, the tough battle at Sochi would have surely made the achievement much more fulfilling.
Lewis Hamilton vs McLaren at Russian GP
Lewis Hamilton saw a whole lot of orange before he saw the checkered flag at Sochi. The first stint of the race, Daniel Ricciardo defended Hamilton ruthlessly. This helped his teammate out as five drivers remained behind Ricciardo's McLaren as he maneuvered his way through the Autodrom.
ADVERTISEMENT
Article continues below this ad
After making his way past the Australian, the second stint saw Hamilton reunited with the back of a McLaren car. This time, it was Norris. The young race leader kept his cool as a seven-time champion breathed down his neck in a Mercedes machine. However, the ill-fated rain saw Hamilton take the lead.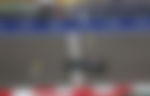 Lewis Hamilton had the race win a long time coming, having waited for four races to get to 100. Hamilton confessed, "It took a long time to get to the hundredth victory and I wasn't sure if I would make it anymore."
ADVERTISEMENT
Article continues below this ad
Although Hamilton reached a historical milestone, Norris remained the protagonist of the Russian GP. As the British anthem played at Sochi, one couldn't help but imagine the alternative that it could have been for Norris. However, as Norris continues to battle Hamilton, the next seven races are sure to continue the fight.
Watch this story: Lewis Hamilton: Ranking His F1 World Titles From 2008 to 2020