Lewis Hamilton Names the 'Hardest Thing to Learn' for Him in F1
Published 08/18/2021, 5:45 AM EDT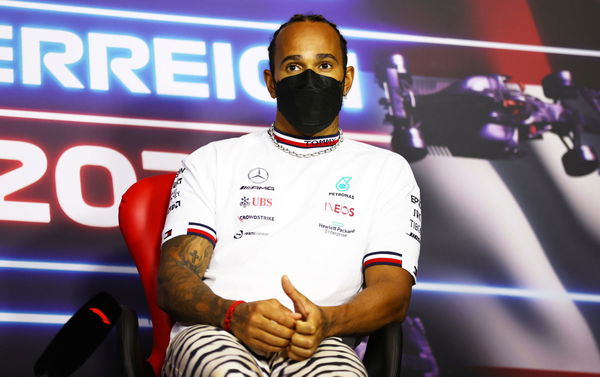 ---
---
Hollywood star Christopher Meloni was in conversation with F1 icon Lewis Hamilton; the actor divulged his newfound love for the sport. Meloni revealed how the Netflix docuseries, Drive to Survive, got him obsessed with how F1 works. As the actor paid homage to the sport through a series of photoshoots, the two celebrities discussed their professions in a recent piece for W Magazine.
ADVERTISEMENT
Article continues below this ad
Meloni said that the data analytics behind the scenes fascinated him the most. He added, "Your endeavor is so computerized and data-driven yet at the core of it, it's up to you, the human, to make these split-second decisions, for the engineers to not screw the pooch… It's a foreign language to me, and it's an alien landscape."
ADVERTISEMENT
Article continues below this ad
Lewis agreed with his observation. Additionally, he remarked that he initially struggled with understanding it. "The data that we go through, for me, probably has been the hardest thing to learn." He further praises the "boffins" on his team, saying, "The guys that I'm working with, they've all come from the top-end universities. They're all just complete boffins…"
The 7-time champion sympathizes with Meloni's awe and confusion. He adds that he too was once like that. "I grew up watching racing and having the viewpoint you have, and now I'm in it. When you're in it, you don't watch it from outside."
Lewis Hamilton approves Drive to Survive
Christopher Meloni is one of many to jump on the F1 bandwagon because of DTS. The series opened the world of Formula 1 to those who hadn't had too much of an interest in the sport. Sharing his introduction to the sport and series, Meloni explained, "I really didn't know about Formula 1."
ADVERTISEMENT
Article continues below this ad
"A friend turned me on to the series. I got to tell you, man, it's one of these few shows that absolutely educated me and introduced me into a world that I had no idea about."
The Mercedes driver commended the impact the series has had. Hamilton said, "It's been amazing to see the reactions to Drive to Survive. It is a difficult sport for people to tune in to because, of course, we all played basketball, football. We can all go and do that, you know? We can all try it at least, but not many people get to try driving a foreign car."
ADVERTISEMENT
Article continues below this ad
Although the series introduced the fans, the current season will have cemented their love for the sport. One of the most entertaining title battles in a while, accompanied by a lot of backstage drama; Season 4 of the series is more than likely to be a blockbuster.
Watch this story: Lewis Hamilton: Ranking His F1 World Titles From 2008 to 2020