Lewis Hamilton on a Slippery Slope as Toto Wolff Admits to Mercedes's Big Blunder With Hope for a U-Turn: "Totally Not Dogmatic"
Published 03/05/2023, 5:30 AM EST

Follow Us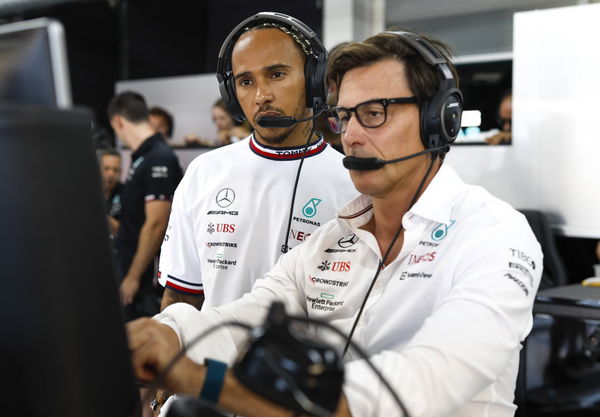 The first setback for Lewis Hamilton and Mercedes' fans is already here, even before the first race is completed. It certainly is a big one, as the hopes of the fans will take a big hit as the team's boss, Toto Wolff, confesses that the team won't be at par with the front markers despite a decent qualifying that had ignited the hopes of the return of the Silver Arrows.
George Russell and Lewis Hamilton delivered good performances and placed their respective W14s at P6 and P7. But despite porpoising being gone, things aren't good in terms of pace and overall performance, and the team, as per Toto Wolff, will go back to the drawing board after sticking with their controversial zeropod concept from 2022 for their 2023 challenger as well.
ADVERTISEMENT
Article continues below this ad
As quoted by ESPN, Toto Wolff shared his insight on the team's chances of winning this season. He said, "I don't think this package is going to be competitive eventually. We gave it our best go over the winter and now we need to regroup, sit down with the engineers, who are totally not dogmatic about anything — there are no holy cows — and decide what is the development direction that we want to pursue in order to be competitive to win races."
"It is not like last year when you score many podiums and eventually you get there, I'm sure that we can win races this season, but it's the mid-and long-term that we need to look at and which decisions we need to make," he added.
This is the first blow for Lewis Hamilton's fans this season, as Toto washes away the hopes of Lewis winning the eighth title. With nothing else substantial in the motion, the team just might participate in a multi-side battle this year.
Lewis Hamilton hopeful with a little cau

tion on the side
ADVERTISEMENT
Article continues below this ad
Mercedes' qualifying ended on a good note, with both of its drivers qualifying within 0.7 seconds of pole holder Max Verstappen. Lewis believes the performance could've been better on Saturday but will be good on Sunday, as he ran his W14 with the race setup in mind.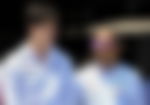 Expressing his surprise at Q3 qualification and the car's dynamic performance, Lewis, as quoted by Sky Sports, said, "We made a step forward today and the car was feeling much more alive this morning, and all of a sudden we were in a different place to where we were the day before. But then we got to qualifying and for me the car just didn't feel alive, it felt kind of average."
ADVERTISEMENT
Article continues below this ad
WATCH THIS STORY: An Insight Into Lewis Hamilton's Dating History
Will the Briton be able to make a run for the podium on Sunday? Has the W14 got what it takes? If it has, surely Lewis will push it to the brim and extract every bit of the power.
Edited By: Varunkumaar Chelladurai