Lewis Hamilton Paints Painful Picture of Facing Abu Dhabi F1 Aftermath With His Father Anthony
Published 08/10/2022, 10:25 AM EDT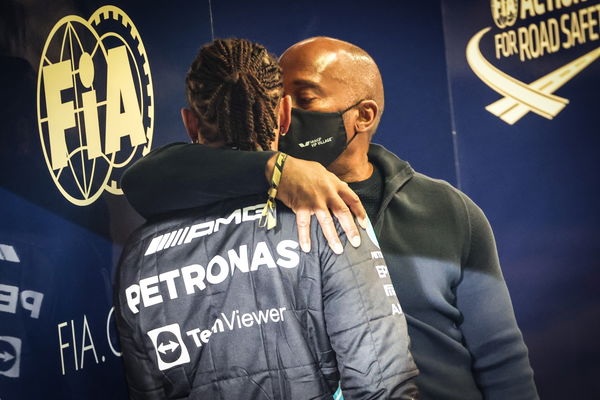 The last F1 race of 2021 will always be remembered as one of the most anticipated, exciting, and controversial races in the recent history of the sport. For Max Verstappen, probably it was the best day of his career, whereas for Lewis Hamilton it was just sheer heartbreak. But how did he cope with the incident? Hamilton recalls.
ADVERTISEMENT
Article continues below this ad
It was the title decider for the 2021 season and Lewis Hamilton was inches away from the win. However, fate had a different plan for the Brit as he saw the title slipping away from him and he couldn't do much about it. Amidst all this, there came the father of seven-time world champion Anthony Hamilton.
ADVERTISEMENT
Article continues below this ad
The huge set of preparation didn't leave much time for the Mercedes driver to know if his father attended the race in Abu Dhabi. However, Hamilton's father was there, waiting for him at the Mercedes F1 garage.
The Briton stated that he was happy to see Anthony Hamilton there in the pit lane.
Talking about the incident when he met his father, he stated, "He embraced me, and I think he was like, 'I want you to know how proud I am of you.'"
"Having your father embrace you in that way is one of the most profound things I've ever…Especially as you've grown up not many times having that."
WATCH THIS STORY: Lewis Hamilton's doppelganger joins the latest addition to the Call of duty franchise
Lewis Hamilton's relationship with his father
Lewis Hamilton has always been public about his relationship with his father. The 2020 F1 Champion has publicly spoken to the media that he shares a very dear relationship with his father. Once Lewis Hamilton's manager, Anthony Hamilton, has always been a shadow to the Mercedes driver.
ADVERTISEMENT
Article continues below this ad
The 37-year-old driver, however, never had the "easiest of relationship" with his father, as he shared the same in a sweet emotional post in 2020, expressing that the two have been working on their relationship.
Lewis Hamilton saw his parents part ways, when he was two years old. The former McLaren driver spent ten years with his mother before finally moving with his father, Anthony Hamilton.
ADVERTISEMENT
Article continues below this ad
Despite all that, the former McLaren driver has always been vocal about his father's importance in his life. Hamilton mostly credits his father, who got him into the world of racing and has been a constant supportive figure.