Lewis Hamilton Shares Three Words of Encouragement to A$AP Rocky & Rihanna's Latest Passion-Project
Published 05/08/2022, 2:44 PM EDT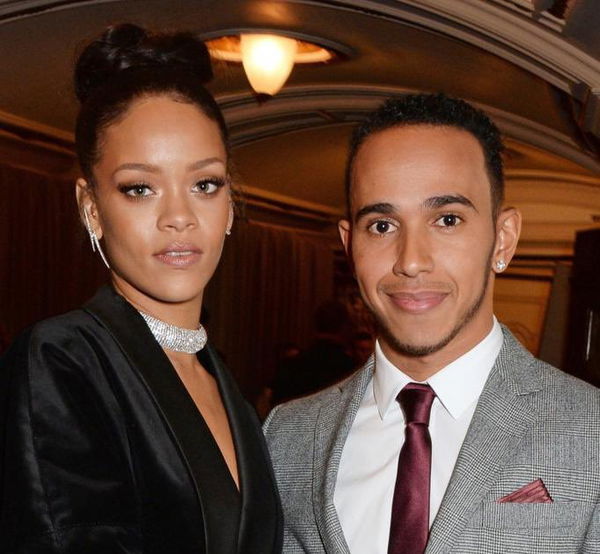 Lewis Hamilton is one of the greatest F1 icons to ever grace the tracks. The Briton has 7-titles and innumerable records to his name. He is also one of the biggest sporting icons of his generation and has loads of A-list friends.
ADVERTISEMENT
Article continues below this ad
ADVERTISEMENT
Article continues below this ad
The long list includes other sports figures like Tom Brady to pop icons like Rihanna. Although Rihanna is now with ASAP Rocky, there were rumors of Hamilton and the singer dating for the longest time. However, Lewis could recently be seen congratulating the 2 on the occasion of Rihanna's pregnancy.
Lewis Hamilton shows his love for Rihanna and A$AP Rocky
Hamilton has some well-known icons as friends. Last year he took to the internet to congratulate the duo of Rihanna and A$AP Rocky on their first pregnancy. The driver ended his social media hiatus to post a story to send his good wishes to his close friend Rihanna.
He also recently put up a story on Instagram with a picture of ASAP and Rihanna and captioned it, "love this bro". Hamilton was congratulating the duo on their newest project, which is A$AP's directorial debut for his and Rihanna's song, 'D.M.B'.
The video features the musical duo of ASAP and Rihanna, seen enacting a mock wedding. The rapper also proposes to Rihanna wearing grills that say "Marry me", to which Rihanna replies similarly with grills that say "I do".
It is good to see the driver cheery and supporting his friends after a difficult title loss last season and a dismal start to life in 2022.
Hamilton and Rihanna's previous history
Throughout his career, Lewis Hamilton has been linked with a few different women. Rihana is one of the more notable personalities the Briton has reportedly been involved with. The Mercedes driver has seen numerous rumors about him and Rihanna being romantically involved fly around over the years.
ADVERTISEMENT
Article continues below this ad
Although the two can be seen visiting multiple events and parties together, they denied any rumors of them dating. Hamilton also said, "You know, I've known Ri for a long time. We've been friends for a while. We get to hang out every now and again…"
ADVERTISEMENT
Article continues below this ad
Watch This Story: Lewis Hamilton's heartwarming reaction to Rihanna's pregnancy announcement amid break up rumors
Rihanna is currently with rapper ASAP Rocky, who she is expecting her first child with. Although Hamilton and Rihanna never dated, they remain close friends and can be seen supporting each other regularly.