"Lewis to Renault Confirmed"- Mercedes F1 Troll Fans Over Hamilton's Contract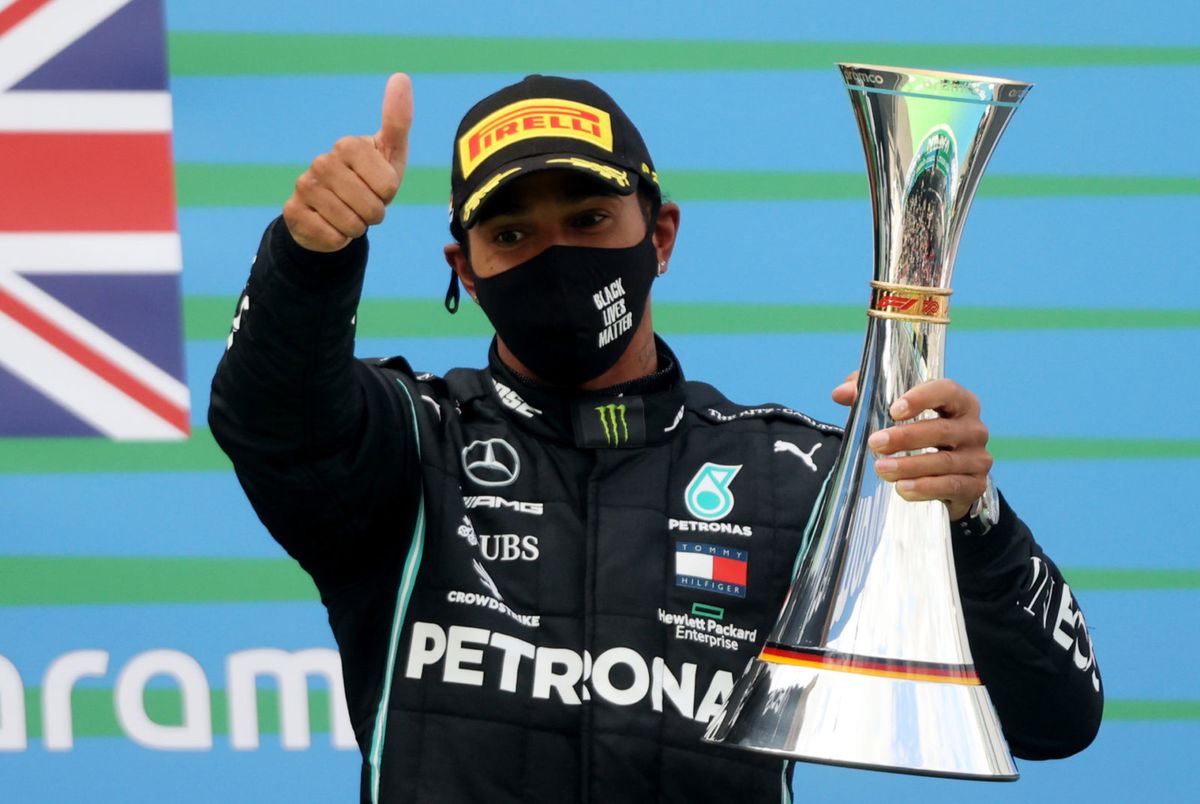 Mercedes is taking a lot of time to secure Lewis' contract for the foreseeable future. Do the Silver Arrows plan to make it official after they have bagged the title this season?
Although the feat seems inevitable anything can happen at the last moment. Therefore, the Germans would like to keep everyone on their toes so as to ensure that they don't slack off.
Banter is Mercedes' bread and butter, after winning races of course. From trolling every team to coming up with crackers every day, the Silver Arrows' Twitter game is truly immaculate.
The fact that their own drivers are not safe from their keen-eyed quips and puns is what makes them the best in the game, both on and off the track. Here's how they took a shot at their very own 6-time World Champion.
READ MORE- Mercedes Sympathize With Haas Over Current F1 'Predicament' in Comical Twitter Banter
Lewis to @RenaultF1Team confirmed.

— Mercedes-AMG F1 (@MercedesAMGF1) October 20, 2020
Mercedes' Twitter handle is high on sarcasm
The F1 calendar is extensive this season with almost back-to-back races till the end of the season. Therefore, it calls for some online banter as COVID has left us shackled to our houses and phones.
Another post by the Mercedes AMG F1 Twitter handle gave room for some interesting replies. The post shows Daniel Ricciardo wearing a colorful honeycomb patterned shirt and adjacent to it, Lewis Hamilton wearing a similar pair of shorts.
The post by itself does not imply much, but when fused with the replies and comments, the room stars to steam up. One user implied that if Lewis is wearing the shorts identical to Daniel's then is the Aussie wearing nothing underneath?
Well, that is a question only our boy from Perth can answer.
READ MORE- Mercedes Hint at Their Dominance Coming to an End in 2020 With Red Bull's Rise
— Mercedes-AMG F1 (@MercedesAMGF1) October 20, 2020
Jokes apart, the teams rush into yet another novel track this year, Algarve International Circuit in Portugal. The teams are excited to see what the track has to offer and even more thrilled by the competition itself.
Red Bull breathing down the Germans' neck, Racing Point leapfrogging McLaren, Ferrari still figuring out how to make their cars work it action galore in the paddocks.
Admittedly, the latter is a sorry scenario; however, considering the leaps that the Prancing Stallion are making with respect to car development, the Maranello-based outfit may be digging their way out of this grave.
Yet if at any moment you feel Portimao is not entertaining you enough, rest assured, Mercedes AMG F1 have you covered.
ALSO READ- Ferrari to Finally Fix Vettel's Biggest Issue With the 2020 F1 Car for 2021