Lewis Hamilton Tried Bottas' Safety Car Stunt Long Before Mugello but Failed
Published 09/18/2020, 7:10 AM EDT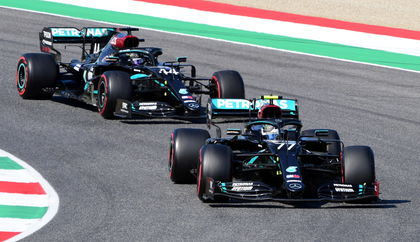 ---
---
Last weekend's Tuscan Grand Prix had a multitude of talking points. One among them was the car pileup we witnessed after the very first yellow flag was lifted.
ADVERTISEMENT
Article continues below this ad
Many blamed race leader Valtteri Bottas for holding the pack so tightly together. But former F1 driver Jolyon Palmer thinks Bottas did no wrong. He compares the incident to a similar race restart in Brazil in 2019, wherein Lewis Hamilton was in Bottas' shoes.
At the Tuscan Grand Prix, Bottas put the pedal to the metal very late. According to Palmer, he was justified in doing so since there was a long straight up ahead. Had he gone any earlier, those behind him would take advantage of the slipstream to overtake him.
ADVERTISEMENT
Article continues below this ad
To illustrate what he meant, he took the example of Brazil from 2019. After the safety car peeled away, Hamilton had the right idea in mind but got the timing all wrong and had to cede track position as a result.
Palmer said, "If we look at Brazil last year, not all that long ago, it's Hamilton at the front of the race, Max Verstappen just behind.
"Hamilton doesn't accelerate out of the final corner. There's a really long straight coming up, and he doesn't want Verstappen to slipstream past him. So he waits, and he weaves on the straight and then he goes.
"But he actually, maybe, goes too early because look, as this unfolds, Verstappen gets the slipstream and Verstappen goes around his outside."
Palmer exempts Bottas from any wrongdoing, blames Kvyat instead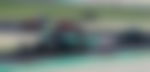 The former Renault driver thinks Bottas did exactly what was right in his opinion and thus can't be blamed for the carnage that took place.
Speaking of the big four-car crash, he said, "I don't think this has to do with Bottas. This has to do with opportunistic mid-fielders who leave a gap.
ADVERTISEMENT
Article continues below this ad
"I think, initially, this comes from the man in 9th place, Daniil Kvyat. He should know that the safety car is coming in as well, and he's got quite a big gap to the car ahead of him.
"He comes through the final corner, starts to accelerate and then, crucially, slows down. Then he accelerates, holds, accelerates again as he realizes that the leader's not going."
That led to the formation of two separate groups, basically. Kvyat's acceleration had a chain effect on all those behind him who think that the race is underway. In the end, it culminated in a horror crash.
ADVERTISEMENT
Article continues below this ad
What's your take on this issue?