"Like Fire & Water" – F1 Insider Believes Alonso's Hungary Actions Result of Hamilton 'Grudge'
Published 08/13/2021, 9:50 AM EDT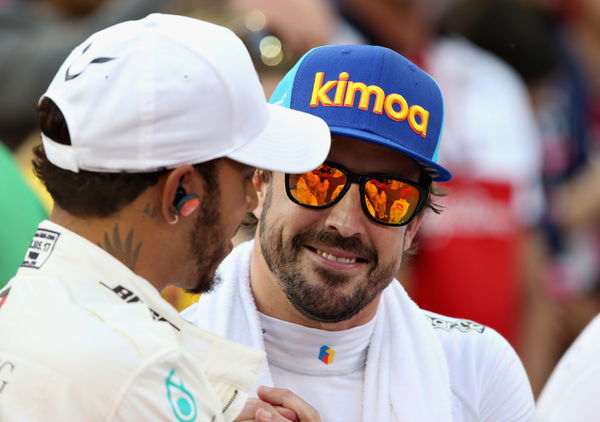 ---
---
The championship battle so far this season has been as intense as they come. Looking at how close the performances are, people have placed their bets on their favorites. The rivalry has everyone invested – fans and the paddock alike. It's no secret that Fernando Alonso, former teammate of Lewis Hamilton, favors Max Verstappen; however, F1 journalist Jack Plooij believes we may see Alonso do his best to mess up the Briton's game this season.
ADVERTISEMENT
Article continues below this ad
Plooij said, "Absolutely. He holds a grudge against Hamilton. Those two are like water and fire. So he thinks: 'If I can screw over Hamilton, I will' ." 
ADVERTISEMENT
Article continues below this ad
He made this observation in the light of Alonso's comments on trying to hold Hamilton back at Hungaroring. The champ said, "I knew that it was hard to keep Lewis behind. But also, it was important for Max [Verstappen]. So, I tried my best." 
Alonso and Hamilton's duel at Hungary only added to the list of iconic moments shared between the two. But will Fernando actively show his support for team Verstappen?
Fernando Alonso in the Orange Army against Lewis Hamilton?
The Max Factor has taken the sport by storm, increasing the following for Verstappen. Equally impressed by the 23-year-old, Alonso is very vocal about his admiration for the Dutchman.
Both drivers are associated with the Lion, and rightfully so. At the beginning of his career, Alonso was just as majestic as Verstappen is now. The drivers share the same zest for winning, aggressive on the track, and making their way to the top. Perhaps, Alonso sees a reflection of his younger self in Max, making him extremely fond of the Red Bull driver.
ADVERTISEMENT
Article continues below this ad
In his hiatus from the sport, Alonso claimed to have watched the races solely because of Verstappen. "Last year, when I wasn't racing, when I put the TV on, I put it on a little bit to see what Max was doing in that race because he was the only one who was going to do something." 
ADVERTISEMENT
Article continues below this ad
Verstappen's rise to the top has been truly mesmerizing, making Mercedes worry for their position; Fernando Alonso shares the emotion. He said, "But…'oh, Verstappen'. Whether he starts on the front row, whether the car is going well…the charisma factor or whatever I think is important as well."
As the Lions of the grid battle with their rivals, the thrill of the sport only increases. Will the Spaniard play a catalyst in the championship battle and will we see a different name on top? Another 12 rounds to find out.