Max Verstappen Backs Lewis Hamilton's Stance on Turkish GP Pole Position
Published 10/10/2021, 6:51 AM EDT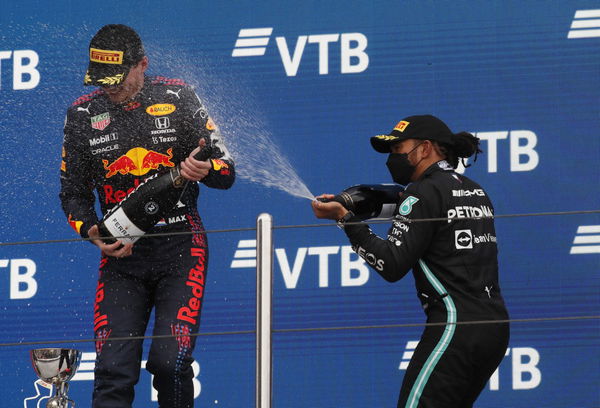 ---
---
Lewis Hamilton and Max Verstappen have been fighting for the championship this season intensely. They have collided with each other frequently, unwilling to give each other an inch on the track.
ADVERTISEMENT
Article continues below this ad
But it was nice to see them on agreeing one thing for a change. Hamilton was fastest in the qualifying in Turkey but will not be credited with pole position as he has a penalty. He disagreed with the rule regarding this, and Max agreed with him.
WATCH STORY: Hamilton Shines as Verstappen Struggles: Best Moments From F1 Practice Sessions of Turkish GP
ADVERTISEMENT
Article continues below this ad
Lewis Hamilton and Max Verstappen agree on the stupid pole rule
He was asked what he thinks of the rule, which states that he will not get credited with the pole position. The 7-time world champion mentioned they should give him the pole position despite his penalties.
"I don't really know, I mean, I got pole. I don't think the penalty should affect that, necessarily, but I don't really care, to be honest," said Lewis.
Max Verstappen, his championship rival, agreed with him and stated that the fastest man should get pole position.
" Yeah, similar comment. The guy who does the fastest lap should deserve pole position," said Max.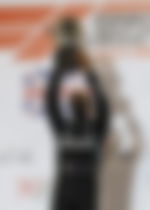 Bottas agrees that the 7-time world champion should get pole in Turkey
Hamilton's teammate Valtteri Bottas agreed with him but gave a more detailed answer. Bottas will get the pole position although he finished the qualifying in P2 behind Lewis.
ADVERTISEMENT
Article continues below this ad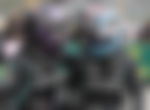 "I think on the sprint weekends, definitely, the fast man in qualifying should be handed the official pole award and pole position for records, and also in a situation like this, Lewis had the fastest single lap.
He was technically on pole but then after he is dropped so… I don't think it's really fair but obviously, I will happily still take that tire, but maybe next time it will be completely different." said Bottas.
ADVERTISEMENT
Article continues below this ad
To avoid this confusion the next time, F1 should change this rule. They should give the pole position to the fastest man in the qualifying despite the penalties.
Do you agree with this rule? Let us know.