Max Verstappen's Father Faces Immense Backlash for Classless Gesture Towards Sergio Perez After Son's Loss: "Sore Loser"
Published 03/19/2023, 3:03 PM EDT

Follow Us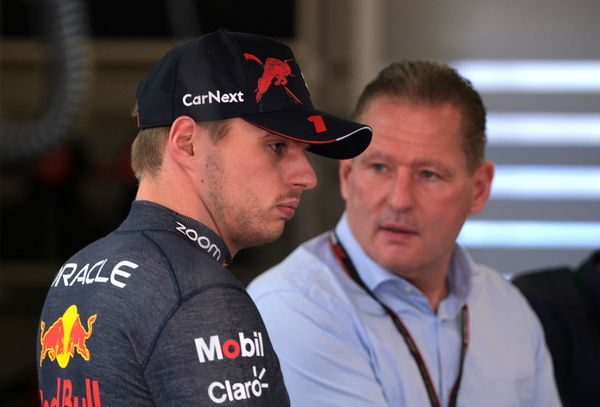 Max Verstappen has never shied away from narrating how tough of an upbringing he had because of his father. Being a former F1 driver himself, Jos was the perfect mentor he could have had. However, his methods have often come under question, some even dubbing it as borderline abuse. In all the stories that Max has told about his father until now, one thing is for certain- Jos does not like to see his son lose. We saw a glimpse of that attitude after the conclusion of the Saudi Arabian GP.
Sergio Perez put up a mega drive from the race restart after giving away the pole position after the lights out. The Mexican brought home the win for the team and, as is the tradition, celebrated with his team after getting out of the car. While he did that, Jos was present there as well but did not break a smile.
Fans slam Jos after Sergio Perez wins the Saudi Arabian GP ahead of Max Verstappen
ADVERTISEMENT
Article continues below this ad
Max, owing to a driveshaft failure in Q2 yesterday, bowed out of the session without setting a lap time. Resultantly, he started the race from P15. Despite that, many expected him to take home the win. While he gave it his all, the Dutchman could only manage a P2 finish. That probably did not please his father, who was visibly upset, and even the legendary commentator David Croft picked up on the emotion during the live telecast.
Have a look at how fans reacted to Jos' face when he saw Checo celebrate with the team.
Even Dan from The Engine Braking Podcast could not help but comment on Jos' reaction.
Fucking hell Jos, at least pretend to be happy for Checo 😂

— Dan – EngineMode11 (@EngineMode11) March 19, 2023
Another fan slammed his behavior and called him a "terrible role model" for future generations.
Jos Verstappen is a terrible role model for future generations. What an awful sportsperson attitude when Checo is celebrating a win. For the same team as his son. Who was second.

— 🐭 (@easylife456) March 19, 2023
Glad Crofty called it out! We know Max wasn't happy about Perez having fastest lap but he stopped talking on the radio before letting the world know!

— Lisa H LH44 (@LH44_Lisa) March 19, 2023
it's funny to see him trying to look happy

— anna (@f1annax) March 19, 2023
He's never happy when Max isn't winning such a toxic dad

— Annmarie Jefferies (@AnnmarieJeffe20) March 19, 2023
The smarky look he gave to checo 🤣

— Nola Darling (@NolaDarling250) March 19, 2023
ADVERTISEMENT
Article continues below this ad
Watch This Story: Biggest Pitlane Mishaps Featuring Hamilton, Raikkonen & Verstappen
The look on that man's face could kill. 😅

— Amo (@oh_gee_amo) March 19, 2023
ADVERTISEMENT
Article continues below this ad
How impressed were you after witnessing a phenomenal drive from Max?
Edited By: Varunkumaar Chelladurai