Max Verstappen & Red Bull's Juggernaut Illusion Shattered as George Russell & Mercedes Slammed for Docile Surrender
Published 03/11/2023, 7:15 AM EST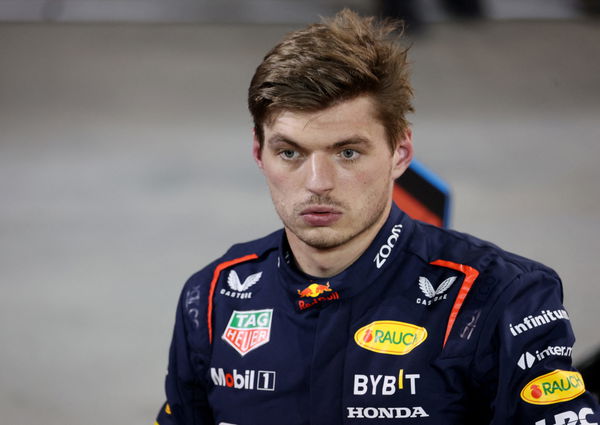 Desert Storm wasn't the only one that F1 fans witnessed in Bahrain, as Max Verstappen and Red Bull brewed another one and ran riots on the track during the inaugural race. They were miles ahead of everyone and have infused a new level of sadness and despair amongst the teams, sparing not a single one.
The two biggest victims of such despair and hopelessness are George Russell and Toto Wolff. The two have gone so far into their assessment that they believe the Milton-Keynes team could bag wins in all the races this season! And this statement has now become an indirect target of former F1 champion Jenson Button's evaluation, who has slammed Red Bull's competitors for giving up just after the first race. Not only this, Button also hints at not so easy times ahead for Red Bull, given that things are just getting started.
ADVERTISEMENT
Article continues below this ad
Attacking Mercedes and George amongst others, Button, speaking with Formule1.nl, said, "I know many drivers have already said they expect that Max Verstappen simply become champion. But how can you put it that way now?"
"I don't believe in that. It was a great race from Max and from Red Bull, let that be clear. It was easy. But I think you can only really say something about the proportions after the next race in Jeddah, at high speeds, and after the first races in Europe. Red Bull is not just going to be champion, I expect a lot of exciting battles this year."
Button's expectations rest on the performances of the other cars, which looked subliminal when put beside Red Bull. Max Verstappen's dominance spoke a thousand words as he finished almost 40 seconds ahead of Fernando Alonso. It'd certainly be a task, but Button makes his assessment to the point since it serves as a call for Red Bull to continue developing and not get ahead of itself.
Mercedes has given up under Red Bull's pressure
A battle like the 2021 season between the two teams was expected to last for eternity. Then arrived the 2022 season, where everything changed. With the difference already being huge last season, Toto Wolff believes it has gotten even worse. This comes in addition to the fact that he has directed the squad to go back to the drawing board for next year.
ADVERTISEMENT
Article continues below this ad
"When you look at where we were at the end of the season, where it seemed like we caught up a lot and it was just matter of which circuits suited us and which not. I think we've almost doubled if not tripled [the deficit] to get to Red Bull. This is what we need to look at. Everything in between, the Ferraris, the Astons, that's just a sideshow," Toto confessed as per Planet F1.
ADVERTISEMENT
Article continues below this ad
WATCH THIS STORY: An Insight Into Lewis Hamilton's Dating History
Mercedes is now stuck in a strut. Jenson Button's remarks should only be taken as a reality check by the teams, as the season is just getting started. We must not forget Red Bull's start to the last season and the turnaround that followed. 
Edited By: Varunkumaar Chelladurai