Measuring Up Red Bull F1's Golden Boys – 'Lion' Max Verstappen 2021 v 'Weltmeister' Sebastian Vettel 2010
Published 12/29/2021, 8:27 AM EST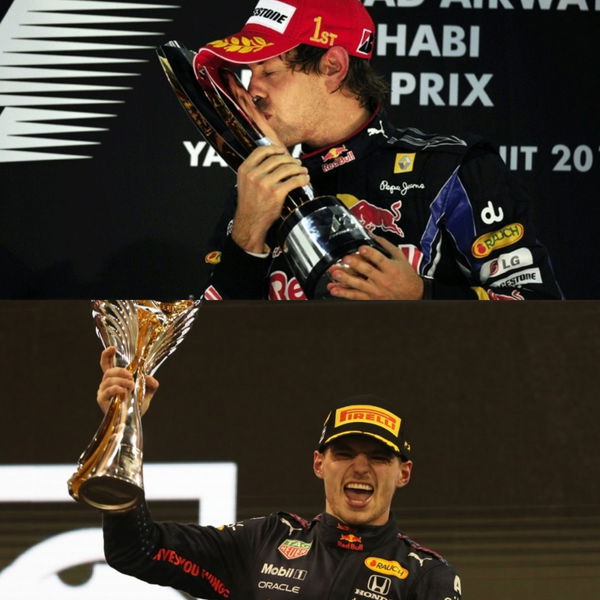 ---
---
As Max Verstappen crossed the finish line to become the world champion, Christian Horner's screams on the team radio were reminiscent of a time before. While in 2021 he extolled, "Max Verstappen, you are the world champion! The world champion!", in 2010, the proclamation was for Sebastian Vettel. Horner's Golden Boy won four champions with the team; this time, can his Dutch Lion reap similar, if not better, results?
ADVERTISEMENT
Article continues below this ad
ADVERTISEMENT
Article continues below this ad
The two Red Bull champions competed at the top of their game. Vettel was a star in his Red Bull era, one the team hadn't come close to matching till they met Max Verstappen. Verstappen promises to pick up where Vettel left off- making Red Bull a championship-winning team. But what separates these two wunderkinds in their first championship-winning years?
Christian Horner compares his champions
No one knows better than the man who shared the emotional journey with Vettel and Verstappen; thus, Christian Horner would be the one to turn to. To Horner, Vettel's victory felt different. "In Sebastian's championship challenge, we had a great car. We just kept having bad luck and engine blow-ups and offs. So Sebastian actually never led the championship until after the final flag in Abu Dhabi and there were four drivers at the final race that could have won it."
So, Horner believes the Weltmeister's RB6 was the stronger car. "Sebastian's challenge felt different. We had a strong car, arguably a car advantage that year but we had quite a few issues reliability-wise that compromised him."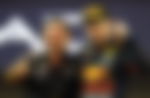 With Max, it was the other way around. Red Bull was the weaker car compared to the monstrous W12 that Mercedes ran. Seldom was there a race in which Red Bull had the stronger car. Further, Horner remains stunned at his new champion.
"It's his first time in this situation in Formula 1 but I think he's just sticking to his principles, the way he races the way he drives and he's got five or six seasons behind him now of experience, which he's using to great effect."
Sebastian Vettel in 2010 v Max Verstappen in 2021
Although the emotions were the same, the seasons Verstappen and Vettel faced were very different. As Horner had pointed out, there were four contenders for the title in 2010- Fernando Alonso, Mark Webber, Sebastian Vettel, and Lewis Hamilton. Verstappen had one opposition- Lewis Hamilton. However, the final race had a much higher pressure environment for Verstappen than it did for Vettel.
But that's where the differences begin. On the surface itself, Seb and Max are extremely different racers. Despite sharing the same prowess on the track, Verstappen was more refined for his championship driver. This could be credited to his seven-season of experience compared to Vettel's four.
However, Vettel wasn't as dominant in 2010 as the Dutchman was in 2021. With a stunning 18 podium finishes to back him, his performance was more reflective of Vettel's reign in 2013 than the run two years earlier. Additionally, where Vettel was clever, Verstappen was belligerent.
ADVERTISEMENT
Article continues below this ad
Vettel's four-way-title shootout was chilling even after the checkered flag dropped; Verstappen, on the other hand, took his battle to the last lap- making it the most dramatic end to an F1 season we have witnessed.
Nonetheless, the two were young stars spotted by Red Bull and honed to become, quite literally, #1 in their respective tubs.
ADVERTISEMENT
Article continues below this ad
The differences may be striking, but the two hold one thing in common- they were out of the ordinary. Vettel will be remembered for being the youngest champion of the sport, and Verstappen, the man who dethroned Mercedes and Lewis Hamilton. While Vettel's maiden championship catalyzed three more consecutive titles, can we expect more from the Lion of Milton Keynes?
Watch this story: 5 F1 Crashes Which Stunned the World
Enjoyed reading this article? Download our exclusive app to get 24x7 coverage, latest memes and social media banter. Click here to download.