Mercedes and Ferrari Reportedly Highest Paid Teams for F1 Series Drive to Survive
Published 03/22/2021, 5:00 AM EDT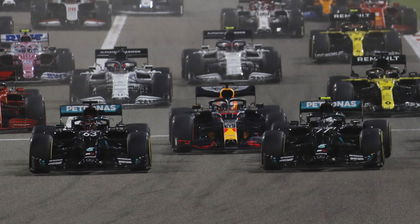 ---
---
The much-awaited third season of the F1 documentary series, Drive to Survive, aired on Netflix late last week. And it has yet again hit the roof of fame, considering the significant rise in viewership.
ADVERTISEMENT
Article continues below this ad
But does this success mean things are going well between Netflix and the F1 teams? Well, no.
According to Motorsport Total, something is odd regarding the relationship between F1, their teams, and the world-famous streaming platform. And the oddness is entirely due to the money being paid to the teams.
ADVERTISEMENT
Article continues below this ad
Apparently, Netflix doesn't pay an individual license fee to each of the F1 teams that starred in the series. Instead, they pay a salary to F1 itself. Subsequently, the sport then pays the income to the teams, who then pay their drivers and the crew.
However, not all teams get an equal amount of salary. Rumors claim that F1 splits the income according to the team's fame in the sport. And the worst part is that the segregation isn't based on the teams' screen presence.
Instead, the most successful team gets the highest salary while the least successful team receives a much lower salary. Furthermore, teams like Ferrari receive success-independent bonuses as well.
Sounds highly unfair right? Well, that's how it apparently works behind the doors.
However, it is unclear as to whether a similar payment strategy continued through the third season as well.
The situation in F1 was much worse during season 1 of DTS
Ferrari and Mercedes were never a part of Drive to Survive's season 1. However, Motorsport Total claimed that both teams received much bigger salaries than the teams that were portrayed in the season.
Apparently, out of Netflix's salary of $5 million, top field teams, Mercedes and Ferrari each received a salary of $1 million, while the rest of the grid received only around $250,000.
ADVERTISEMENT
Article continues below this ad
This kind of salary distribution isn't restricted to just Netflix, but the year-end constructor's salary, too, follows a similar trend.
In 2020, a total of $711 million were distributed amongst the 10 teams, but again not in equal parts. The financially best-placed teams gained an income that was three to four times bigger than the ones offered to the bottom-field teams.
Overall, will F1 figure out a way to get rid of this unfair play going around in the sport? Only time will tell.
ADVERTISEMENT
Article continues below this ad